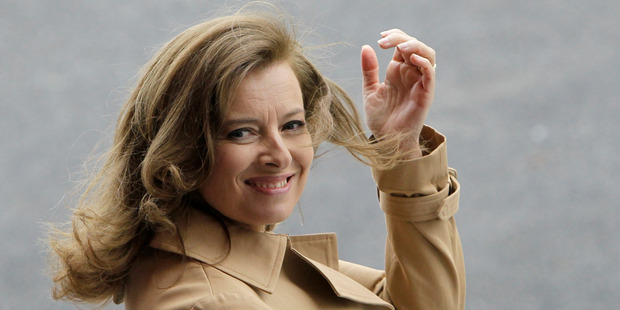 Speaking on Bastille Day, French President Francois Hollande has shrugged off the controversy surrounding his partner, Valerie Trierweiler.
After a military parade and a lunch for VIP guests, including wounded soldiers, Hollande gave a live television interview, reinstating the traditional July 14 presidential address abandoned by his predecessor, Nicolas Sarkozy.
He referred to the Twitter scandal involving Trierweiler, who caused a national storm a month ago after tweeting her support for an election rival of Segolene Royal - Hollande's former partner and the mother of his four children. Royal, 58, went on to lose her parliamentary seat and see her political ambitions reduced to tatters.
As Hollande's children voiced their displeasure at Trierweiler's comments, the scandal quickly became known as Dynasty-sur-Seine. And just as the spat seemed to be dying down, Hollande's eldest son - Thomas, 27, a lawyer - gave an interview suggesting he and his siblings wanted nothing more to do with Trierweiler.
The role of the President's partner has also been questioned after her decision to continue working as a journalist for Paris Match.
Wearing a sombre suit and dark tie, Hollande was asked about his "Monsieur Normal" image and the Twitter row.
"I am for a clear distinction between public and private life. I believe private matters should be regulated in private and I have asked those close to me to respect this," he said.
He also explained there would be no official "first lady" status for his partner. "Valerie wants to keep her professional activity and I understand that. However, she will be at my side when protocol demands."
Most of the interview was spent discussing France's economic concerns.
Hollande defended his record during his first weeks in power. "I have defended the interests of France at the G8 in Washington; afterwards I was at Chicago to announce the withdrawal of French troops from Afghanistan; I have participated in two European summits, so I have fully respected the [political] engagements I made to the French."
On the announcement by carmaker PSA Peugeot Citroen that it planned to shed 8000 jobs, Hollande said: "It's a shock, particularly for the workers concerned by this brutal announcement. The state cannot remain indifferent."
He said he believed the company had delayed the announcement until after the election, "perhaps as a service to those then in power".
"This plan was not announced when it was foreseen and it was delayed until after the election. Now we have to do something about it. It is unacceptable."
- Observer