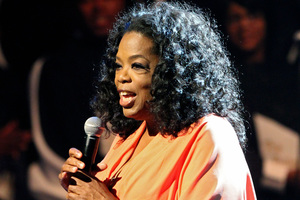 The homespun philosophy of legendar ''philosopher" Oprah Winfrey was drawn on last night as 400 people celebrated an early American Independence Day in Wellington.
And the word ''nuclear" - or "anti-nuclear" - was not mentioned once in the month-early reception at the Town Hall.
The event was timed to coincide with the visit of 50 Marines to exercise with New Zealand troops and a Marine Corps band, both marking the 70th anniversary of the arrival of US forces to help defend New Zealand in the Second World War, June 12, 1942.
US ambassador David Huebner described the relationship between US and New Zealand as ''rock solid."
He listed some of the successes that Americans and New Zealanders had made to the other's economy including more than 25 per cent of the Weta whizzes in Wellington being US citizens.
"New Zealand simply does not have a more vibrant, a more dynamic, a more extensive economic partner than the United States and I don't see that changing."
But he said it was not in dollars and cents that the true worth of relationships was measured.
"As the great American philosopher Oprah Winfrey has said - and I'm serious - it's one of the best things I heard spoken by a living human, 'Everyone wants to ride with you in the limo but what you want is someone who will take the bus with you when the limo breaks down.'
"In the first half of 1942 the limo just didn't break down, it was bombed to bits, as was the bus.
"So Kiwis and Americans walked shoulder to shoulder into hell to try to sort things out and help others because that's what Kiwis and Americans do."
He said the shared sacrifice in the service of higher aspiration provided the "rock solid foundation" for a special relationship between Americans and Kiwis - "a foundation that has rained strong and reliable despite the vagaries, intermittent amnesia and occasional myopia of short-term politics."
Foreign Minister Murray McCully said that between June 1942 and mid 1944 there were between 15,000 and 45,000 American servicemen in New Zealand.
"Seventy years may have passed but New Zealanders have not forgotten," he said.
"Whatever turbulent waters may have passed under the bridge of history since that time, our two nations remain inextricably linked by this deeply formative chapter in our history and to the principles of democracy, the rule of law and human rights that continue to underpin our two societies today."
Mr McCully led the toast to President Barack Obama and the American people.
Two veterans American Claude Bohn and New Zealander Bruce Cunningham were called to the stage for the toasts.