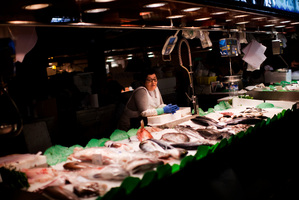 In just a few weeks, the long-running European debt catastrophe that has stumbled from summit to bailout to the fall of governments has been transformed into a far more corrosive crisis of legitimacy that is increasingly pitting electorates against the established political castes.
From London to Madrid, from the European Union's northern core to its periphery, voters have begun to resist policies tightly predicated on targets and deadlines for reducing debt to satisfy the markets and ratings agencies which have no means for encouraging growth.
As polls in Ireland revealed last week, support for the coalition Government's policies is collapsing, while backing for Sinn Fein - which is calling for a "no" vote in next month's referendum on the EU fiscal compact that would bind member states other than the UK, which opted out, to budget deficits of 3 per cent or less in perpetuity - has propelled it into the rank of Ireland's second most popular party after Fine Gael.
Whether there will still be a fiscal compact to vote on when the Irish go to the polls, is a moot point. The likely winner of the second round of the French presidential elections next Monday, Socialist Francois Hollande - who some polls put nine points ahead of Nicolas Sarkozy - has said he would revise the deal.
The Dutch coalition Government has been brought down by the departure of Geert Wilders' far-right Freedom Party, which was unwilling to sign up to a budget in line with the EU's belt-tightening package, even though the Dutch Government has been one of the most aggressively in favour of imposing harsh austerity measures on members such as Greece and Portugal.
Opinion polls in Holland suggest that if elections - scheduled for September - took place today, parties opposing the austerity regime might, both to the left and the far right, win as much as a third of seats.
While some analysts have pointed to Hollande's emergence as the leader of a pan-European anti-austerity movement, others believe something more complex is occurring - a "game-changing moment" in Europe that is seeing individual electorates emboldened to push back and debate new strategies by events they see taking place in other countries.
What is being demanded by voters, as European debt has continued to balloon with unemployment, even as growth has evaporated, is nothing less than a "Plan B" - an alternative strategy to the dominant anti-austerity drive. Significantly, for the first time those calls are gaining real traction.
"The one thing you notice," says Eoin O'Malley, a politics lecturer at Dublin City University researching reactions to the European crisis, "is how the push back in one country [against austerity] is influencing politics elsewhere. You see Hollande's comments in France and the fall of the Dutch Government influencing how voters here see the Irish referendum on the fiscal compact and believing increasingly they can say no. If you ask me now, I would bet that a no vote was more likely than it was last week."
While in London and Berlin politicians and officials have stuck to the script - that there is no Plan B - elsewhere the past few weeks have seen increasing signs that senior EU and government officials are rapidly waking up to the risks posed to the EU by the new public mood of resistance. This has seen politics return to reassert itself in a crisis that has for long been dominated by economic considerations and has led to the fall of five European governments so far.
Last Thursday the Wall Street Journal quoted unnamed officials tentatively suggesting that a debate had begun on whether to soften the 2009 targets for reducing debt to 3 per cent of GDP by 2013.
"The debate is not to be excluded," the paper quoted one EU official as saying, "but it could give a signal that we are easing up at a time when we are struggling to show that we can keep the system."
By Saturday, that debate - initiated by Hollande - had been taken up in unexpected places. Mario Monti, the technocratic Prime Minister of Italy installed precisely to pursue an austerity regime, became the latest leader to criticise a policy focused only on cutting. "If there is no demand, growth will not materialise. All the reforms we are putting in place now are deflationary," he said.
European Council president Herman Van Rompuy also weighed in, commenting that growth needed to be pushed to the front of the debate, although he later cautioned: "There are no magic formulas."
He was responding to the European Central Bank's Mario Draghi, who told the European Parliament's economic and monetary affairs committee that a fiscal compact needed to be followed by a "growth compact".
It is a debate that has been accompanied by an increasingly loud and febrile commentary on the sidelines from economists and analysts writing in the media, who have become emboldened to declare Europe's much-heralded bailout, less than two months old, stillborn.
In the New York Times last week, economist Paul Krugman - long at the forefront of criticising austerity measures - denounced the failed "zombie economic policies" of Europe's [and America's] "austerians".
In the Financial Times, Jose Ignacio Torreblanca of the European Council on Foreign Relations, reflecting a growing view even within the conservative Spanish Administration of Mariano Rajoy, whose government's credit rating was downgraded at the weekend for a second time, announced: "Time to say 'basta' [stop] to the nonsense of austerity."
None of which is what Germany and Chancellor Angela Merkel want to hear ahead of a key vote later next month in the German Parliament that would not only approve the fiscal compact, but even more important, as part of the same package, the European Stability Mechanism - the region's new emergency bailout fund.
Other events on the immediate horizon that could pour fuel on the fire include elections in Greece and the French legislative elections in June, all of which threaten to turn a growing anti-austerity moment, underpinned by rising populism, into a major crisis.
If there is one place where the anti-austerity backlash is not being felt, it is in Germany, where the prescription from politicians and central bankers for Europe's problem cases remains largely unchanged, despite the rapidly changing political emotions elsewhere.
BREAKING DOWN THE EUROZONE FAULT LINES
Netherlands
One of the biggest cheerleaders for the fiscal compact, the Dutch Government collapsed last week when the far-right Freedom Party quit the ruling coalition over Prime Minister Mark Rutte's austerity budget. This proposed 14.4 billion ($23.2 billion) of cuts to healthcare and public sector wages, and envisaged raising sales taxes and the retirement age to save the country's AAA credit rating. While an 11th-hour deal with opposition parties appeared to have secured a new budget, it could unravel in September elections.
Spain
With youth unemployment at 50 per cent, the eurozone's fourth largest economy is the latest country to symbolise Europe's financial woes. On Saturday, ratings agency Standard & Poor's lowered Spain's credit rating to BBB+, its second downgrade, while overall unemployment hit 25 per cent.
Ireland
Now in the fourth year of an austerity regime, Ireland's voters have seen no return to growth and have begun to rebel against Government cuts. The Irish have begun abandoning parties like Fine Gael and Labour, while propelling Sinn Fein into second place for its support for a no vote in the Irish referendum on the European fiscal compact on June 1, which the party says would impose an extra 6 billion in cuts. While support for the referendum has a slim majority, 39 per cent of Irish voters have yet to make up their minds.
France
With France recording its 11th consecutive month of rising unemployment, to almost 10 per cent in March, growth feeble and public finances deeply strained, French voters look set to reject Nicolas Sarkozy, one of the key architects with Germany's Angela Merkel of the fiscal compact.
Germany
Chancellor Angela Merkel has laid down the law with France over austerity measures, and despite having largely propped up the euro is now beginning to look increasingly isolated in the growing push back against budget reductions. How Germany responds to the growing crisis of political legitimacy in the EU will largely define the outcome.
- Observer