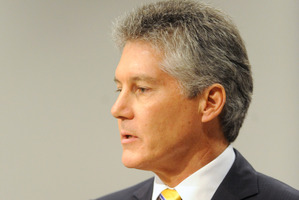 Discussions on the withdrawal of Australian and New Zealand troops from Solomon Islands will begin next month, almost a decade after the crisis that thrust the tiny nation toward violent disintegration.
Australian Defence Minister Stephen Smith has already discussed a withdrawal with Solomons Prime Minister Gordon Darcy Lilo, and New Zealand Foreign and Defence Ministers Murray McCully and Jonathan Coleman.
Papua New Guinea Prime Minister Peter O'Neill was also briefed this week.
Troops from Australia, New Zealand, PNG and Tonga have been in the Solomons since 2003, when the islands' Parliament confirmed a request for urgent assistance following the collapse of law and order.
Amid rising violence between rival ethnic and militia groups, basic services had broken down and the Pacific Islands Forum sanctioned a regional assistance mission led and funded by Australia and New Zealand.
At its peak security forces under the Regional Assistance Mission to Solomon Islands, including police, reached more than 2000.
The military component of RAMSI has now contracted to an Australian-led company of about 84 Australians, 50 New Zealanders, 40 PNG troops and a small number from Tonga.
There are also about 200 police and 100 civilians in the mission.
The main task of the RAMSI troops is to handle incidents beyond the capabilities of the Royal Solomon Islands Police Force and RAMSI police.
Smith said formal discussions on withdrawing troops would begin at next month's meeting of RAMSI ministers, but proposals were at a "very preliminary stage" and no firm conclusions on an exit date had been reached.
"We firstly have to satisfy ourselves that we've got to that point in the cycle where the military or defence drawdown is the correct thing to do," he told ABC radio.
"We're not going to do it in a precipitous way or in a sudden way.
"We will do it in an orderly way.
"Certainly, we're not expecting that anything would occur before the middle of next year."
Smith said a substantial police contingent would remain to continue building the capacity of the Solomon Islands' police force, and to be on the ground for any disturbances or law and order issues.
Australia would also continue - and perhaps expand - its defence cooperation programme that underwrites the operations of the nation's patrol boats and the police explosive ordnance disposal team, clearing bombs left from World War II.
Smith said further cooperation could include Australian Navy ship visits and military exercises, and expansion of wider ties.
"We've agreed to have a look at the capacity to grow the relationship between Australia and the Solomon Islands bilaterally," he said.
Large aid programmes will also continue.
Australia allocated total aid spending of A$261.6 million ($318.4 million) this financial year. New Zealand aid totalled $46 million.