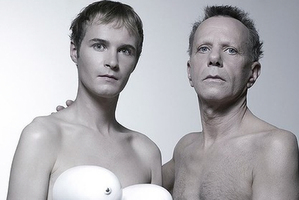 They may have called him Noddy at the Duntroon military college, but it is "Can Do" Newman who has shaken Labor to its core.
Campbell Newman, 49, hewed down a generation of the party's best in Queensland on Saturday, with the handful left standing now looking at another uncertain byelection for former Premier Anna Bligh's seat.
For Labor nationally, the former Brisbane Lord Mayor is also like some avenging political ghost. His father, Kevin, signalled the doom of Gough Whitlam's brief Labor Government when he captured the Tasmanian seat of Bass from Whitlam's deputy in a 1975 byelection with a 14 per cent swing. The ensuing carnage dumped federal Labor into the wilderness for eight years.
Kevin Newman held a number of Liberal ministries and died in 1999. His widow, Jocelyn, was a Liberal Senator and federal minister for about 15 years and was by her son's side when he claimed victory on Saturday night.
It was no mean feat, even for a man of such political lineage.
Campbell Newman's first career move was the army, where he rose to major before leaving in 1993 to join a Queensland grain silo company.
With degrees in civil engineering and business administration, Newman in 2004 won election as Brisbane's Lord Mayor in a council dominated by Labor.
In a sign of things to come, the next election hammered Labor and gave Newman a majority of Liberal councillors, running with the "can do" slogan he later adopted for his campaign against Bligh.
Two years ago he was placed fifth in the World Mayor Prize.
But the Liberal National Party, recently merged from the battered remnants of Queensland's two conservative parties, needed new blood to challenge a resurgent Bligh, riding on the goodwill of her handling of last year's floods and Cyclone Yasi.
Last March Newman chased John-Paul Lanbroek from the LNP leadership, announced that he would run for Ashgrove - a seat held by Labor for 23 years - and installed former state Nationals leader Jeff Seeney as interim Opposition leader. Seeney was yesterday confirmed as Deputy Premier.
Newman, a pretender from outside Parliament, was considered a long shot and in the closing stages of the campaign looked as if he could fail to win Ashgrove.
Labor hammered him unmercifully for equivocation on same-sex marriage and daylight saving - both sensitive issues in Queensland - and launched a financial smear campaign that backfired when the state's Crime Commission found no evidence of misdeeds.
Yesterday it all came together.
He pledged to do all he had promised during the campaign, was gracious to Bligh in her crushing defeat, and said his Government would conduct itself with humility, grace and dignity: "I am determined that Queenslanders will walk tall as citizens of the greatest state of the greatest country."