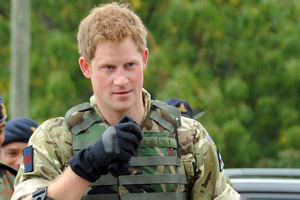 The British Army plans to announce Prince Harry's arrival in Afghanistan for his next tour of duty following the breaking of a press embargo by the Australian magazine New Idea four years ago.
The media leak led to the third-in-line to the throne being pulled out of the frontline after 10 weeks of action in 2008.
The Sunday Times said Britain's Ministry of Defence decided the popularity of social media websites made a media blackout unworkable.
The paper said news of Harry's future deployment meant a heightened security operation would be needed to protect the Apache helicopter pilot and his fellow troops from attacks.
"The military's view is that either Harry goes or he leaves the army," a senior defence source told the Sunday Times. "He can't not go and stay in the army. We have spent millions training him."
The date of Harry's arrival will be secret until he is in the country.
- AAP