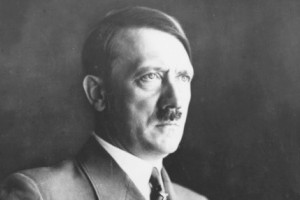 A British publisher plans to sell excerpts from Adolf Hitler's Mein Kampf in Germany, despite likely legal action from the Bavarian Government which owns the copyright to the 1925 book.
While the controversial book is not banned in Germany, the state of Bavaria has repeatedly prohibited its publication.
The state, in the southeast of Germany, seized Hitler's assets following his 1945 death.
Publisher Peter McGee, 51, plans to release the excerpts later this week, telling German magazine Der Spiegel the publication should be available for the German public to read.
"It's long overdue that a broad public should get the opportunity to deal with the original text," he said.
However Bavarian Finance Ministry told Der Spiegel the state will use "all means at its disposal" to combat copyright infringements.
The ministry said the aim was to stop the spread of Nazi propaganda, a tactic Mr McGee described as nonsense.
"We're aware of the dark power of this book but it stems from the fact that no one has read it. The aura of being forbidden accounts for its myth," he said.
Mr McGee plans to serialise the book in three 15-page brochures.
He plans to initially print 100,000 copies of each brochure. The text would be accompanied by critical commentary.
Mein Kampf, which translated means "My Struggle", was written by the Nazi leader in prison following his failed Munich Beer Hall Putsch in 1923.