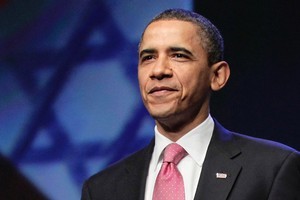 He was young, good looking, and photogenic. He swept to power against heavy odds with a heart-warming, hopey-changey message, completing a rags-to-riches journey that might have come straight out of a blockbuster movie. It isn't hard to see why Barack Obama's election in 2008 was the toast of Hollywood.
Five-figure cheques bearing such blue-chip names as Hanks, Clooney and Spielberg poured into his coffers. By this stage in the last election cycle, the entertainment industry's hearts, minds and wallets were already won.
Four years later? Not so much. When they enter the polling booths, the stars and the power brokers who run this town will still put their crosses against his name. But the sense of warm, fuzzy optimism that characterised his last election has largely vanished.
Nowhere was the disillusionment more keenly felt than at the Beverly Wilshire hotel this week, as liberal Hollywood gathered for an exercise in champagne socialism.
People for the American Way (PAW) - perhaps the most influential advocacy organisation in the United States - planned to celebrate its 30th birthday in style, with the cost of a table at between US$5000 ($6400) and US$10,000.
The host was Alec Baldwin and the list of patrons, organisers and supporters on the invitation included everyone from JJ Abrams, Leonardo DiCaprio, Jon Hamm and Martin Sheen to Barbra Streisand, Kathleen Turner, Larry Flynt and Jamie Lee Curtis.
Among these pillars of the entertainment industry's liberal establishment, there is palpable frustration with the President.
He has failed to deliver on almost all their pet issues, from gay marriage and climate change to human rights and social justice.
PAW founder Norman Lear, an influential producer, last week responded with anger in an interview as Obama's name was mentioned.
"He can't make up his mind about anything," Lear said.
"On taxes, he doesn't take a strong stand. He can't make up his mind about immigration. I don't even know if he's come clean on waterboarding or torture ..."
In 2008, Lear gave just over US$32,800 to Obama. But he will not give a cent this time.
Like many in Hollywood, he wonders how the President squares the policies he has pursued in office with his 2008 rhetoric. He also wonders how his first term has gone down on the domestic front, given the famously leftish convictions of his wife.
"I cannot imagine the pillow talk that must go on between Michelle and the President," Lear said. "She's a very smart, political woman. I can't imagine what she now says to him."
Lear, 89, knows about following convictions. Three decades ago he was one of the industry's most powerful men, having produced some of the era's most popular sitcoms such as All in the Family, Sandford and Son, One Day at a Time and The Jeffersons. One morning in 1980, he turned on his TV to see Jimmy Swaggart, one of a then-new breed of televangelists, instructing viewers to pray for the removal of a left-leaning Supreme Court judge.
"I was chilled by the way he was mixing religion and politics," Lear said. "I knew the power of television and, to be honest, it scared the shit out of me."
At the time, Lear's entertainment company had seven, mostly successful shows on the air. Days later he told business associates he would take a break to fight what he saw as the creeping tide of religiously motivated right-wingery in Reagan's America.
First, he made TV advertisements arguing that the strictures of the religious right were "not the American Way". Then he produced a two-hour TV special, I Love Liberty, to celebrate the diversity on which the nation was built. And, in 1981, he founded People for the American Way.
For most of the 1980s and 1990s, PAW was at the centre of the cultural battleground, conducting PR campaigns and filing lawsuits on behalf of progressive causes. Achievements included successfully suing to force Texas schools to teach evolution and stopping a right-wing judge, Robert Bork, being appointed to the Supreme Court.
These days, its most vociferous campaigns are for abortion rights, gay marriage and civil liberties.
In a political cycle largely shaped by Fox News and the values of the Tea Party, that perhaps puts it on the losing side. But Lear will have been happy that PAW's birthday celebrations showed the progressive left can still draw a crowd.
And while enthusiasm for Obama might have been hard to find among the Hollywood elite at the Beverly Wilshire, at least one factor may bring wavering supporters around.
"Obama is in such difficult straits but has eight or nine people working so diligently for him," Lear said.
"Mrs Bachmann, Mr Perry, Mr Romney, Mr Gingrich ... the Republican candidates are really doing a championship job in reminding people why they should still vote for Obama. He's lucky to have them."
One star reviews: What the A list says
Matt Damon
The Oscar-winning actor was one of Obama's most fervent Hollywood supporters in 2008 and campaigned for him in Florida. But he told CNN in March: "He misinterpreted his mandate. He's doubled down on a lot of things."
Jon Stewart
"I thought he would do a better job," the previously pro-Obama comedian and host of the Daily Show TV programme said earlier this year.
Robert Redford
In 2008, the Hollywood veteran proclaimed Obama was "what the country needs most now". However, in July this year he said the President had failed to "roll up his sleeves" on energy reforms.
Jane Lynch
The openly gay star of the TV series Glee criticised the President over his non-committal stance on gay marriage. She said last year: "He is a huge disappointment to me."
- INDEPENDENT