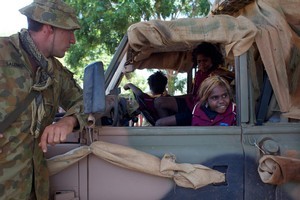 Karlas Schandley is stealing along a riverbank in remote northwestern Australia, pausing occasionally to study his surroundings.
He's on the hunt for a goanna, but anything edible will do - a bush turkey, a catfish, even wild plums.
"It makes a break from army rations," jokes Private Schandley, a Gooniyandi man from a community near Fitzroy Crossing.
The 23-year-old is a reservist in Norforce, a unique Australian Army regiment that carries out surveillance across the tropical Top End.
Based on a World War II observer unit raised in anticipation of a Japanese invasion, it is dominated by Aboriginal recruits, whose local knowledge and survival skills are highly prized.
"These guys have fantastic bush skills," says Major Glen Kuschert, the commanding officer of Norforce's Kimberley Squadron.
Jobs are scarce in the scattered Aboriginal communities of the north, so Norforce - the North West Mobile Force - is an important employer.
And as the regiment marks its 30th anniversary this year, it is seeking to elevate more indigenous soldiers into senior positions, through improved education and training. A few months ago, it celebrated the commissioning of its first Aboriginal officer.
Norforce - which calls itself "the eyes and ears" of the Top End - patrols 1.8 million square kilometres of desert, savannah and bushland, believed to be the largest operations area of any military unit. In wartime, its soldiers would observe enemy movements and report back on weaponry, numbers and locations. In peacetime, they look out for illegal fishermen, drug smugglers and wildlife poachers.
During a recent exercise near the Aboriginal community of Kalumburu, 900km northeast of Broome, some of the men said joining the army had changed their outlook. Schandley used to be unemployed and drank a lot. Now he works as a ranger with the Kimberley Land Council, when not away on Norforce duties. "I enjoy being out on country, and setting an example for the kids," he says.
The soldiers learn skills that can help them find civilian jobs and become community leaders; in turn, they pass on their own knowledge.
"If something is out of place - a bush, a rock - they'll pick that up," says Bob Terms, the squadron sergeant major. "They can see if something has been through, and not necessarily from prints or tracks, maybe just a broken twig or a tiny thread caught on a tree."
Norforce's predecessor was the 2/1st North Australia Observer Unit, formed in 1942 after the first devastating bombing raid on Darwin by the Japanese. The unit employed indigenous guides and trackers to help white soldiers cope with the inhospitable terrain and conditions.
Among surviving "Nackeroos" - as the soldiers called themselves - is Peter Huskins, 88, who patrolled near the Roper River in the Northern Territory. A local man named Joshua "taught us how to catch fish and wild ducks, and how to find water", recounts Huskins. "Joshua was fantastic on direction, and he would pick up footprints and say 'so and so walked along here but he was obviously limping'. He taught us how to strip the paperbark off the trees and make a hut ... We wouldn't have survived without the Aborigines."
The regiment was disbanded in 1945. However, some of Norforce's soldiers - whom the army calls "modern warriors" - are descendants of the indigenous guides. For Aboriginal recruits the job is a source of pride and prestige, protecting Australia and their ancestral lands.
During a coastal patrol north of Kalumburu, the soldiers carried out reconnaissance of a mangrove-fringed beach to identify a landing site for Norforce's Zodiac inflatable dinghies. Those assigned to lookout duties scanned the beach carefully - and not only for "the enemy".
"This is croc [saltwater crocodile] country," said Corporal Ronald Roe, the patrol leader.
In Kalumburu the army was greeted warmly. Children jumped in and out of the camouflaged Land Rovers and peered wide-eyed at the men's assault rifles. Thanks to Norforce's long association with Top End communities, the army is trusted and respected by indigenous elders.
Among the black and white soldiers, working together on equal terms, there is a easy camaraderie that is not often seen in Australia. Bob Terms has a simple explanation. Tapping his uniform, he says: "When we're wearing this, we're all green skins. We're all one family."
Terms has undergone his own epiphany. "Before I joined Norforce, I wouldn't have sat in a foxhole with an Aboriginal person and shared a cup of tea. Now I don't think twice about sharing a cup of tea with [the indigenous soldiers], or giving them a smoke, and I'm honoured to be godparent to a little Aboriginal girl. I guess I've stopped seeing them as a different class of person."
The regimental commander, Lieutenant Colonel Christopher Goldston, says: "We make some very deep personal connections, which are very important in indigenous culture. They're used to a revolving door of people who fly in, promise the world and fly out, having delivered nothing. We don't make promises we can't deliver, and the same individuals get involved with the same people."
Norforce's efforts to promote more black soldiers reflect wider moves to increase indigenous involvement in the Australian military. Aboriginal people and Torres Strait Islanders account for less than 1 per cent of Defence Force personnel, compared with 2.5 per cent of the population.
The achievements of men such as Lieutenant David Isaac, Norforce's first Aboriginal officer, are partly thanks to a new emphasis on education. Every course, regardless of its technical content, begins with a week of intensive English language, literacy and numeracy tuition.
Goldston calls Norforce "an agent for social change", adding: "I think we're making a difference in our own way, and I'm quite proud of that."