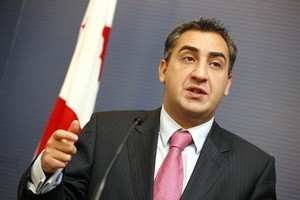 Claims by Georgia that Russia was corrupting the system of international relations were "absolutely inappropriate and absurd," says Russia's ambassador to New Zealand, Andrey Tatarinov.
He was responding to comments by Georgian Prime Minister Nikoloz Gilauri and Foreign Minister Grigol Vashadze made while in New Zealand that Russia had been "buying" the support of small Pacific countries to recognise South Ossetia and Abkhazia.
They declared independence from Georgia in 2008, pitting Russia and Georgia against each other in military conflict and a breakdown in their relationship.
Nauru reportedly received US$50 million after recognising them. Tuvalu has also recognised them last month. Vanuatu recognised them but then reversed its position with a change of leader but is reconsidering, the Herald understands.
Mr Tatarinov said in a statement that Russia policy was "absolutely transparent."
It was aimed at the development of mutually beneficial economic relations and strengthening of trust and mutual understanding in the region.
In that regard, statements suggesting that Russia's action corrupted international relations were "absolutely inappropriate and absurd."
The first meeting of Russian Foreign Minister Sergei Lavrov and Pacific leaders and foreign ministers had occurred on the sidelines of the United Nations General Assembly on September 22 this year.
"During the meeting, the parties discussed the possible spheres of co-operation and voiced the common interest in developing relations in the interests of ensuring stability and sustainable development in the Pacific region."
Mr Tatarinov said Russia believed "any sovereign state - big or small - including countries of the South Pacific region can determine themselves with whom they wish to establish diplomatic relations."
"Any pressure in this regard is unacceptable," he said.
Russia welcomed the start of a process of recognition of the new Transcaucasian states by the international community and was confident in its irreversibility in spite of the strong opposition of Georgia.
Meanwhile Abkhazia's ambassador to the Asia-Pacific, Juris Gulbis, who is based in Fiji, said that Vanuatu continued to recognise Abkhazia "on the basis of of the Abkhazian people to self-determination, on the basis of elected government and territory, which Georgia is disputing is theirs.
"Vanuatu maintains recognition of Abkhazia despite pressure from Australia, France and the EU."