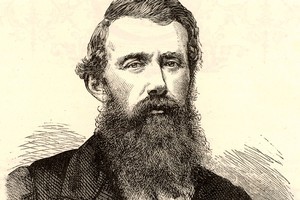 He was a 19th-century explorer who risked his life to unearth a great secret - the source of the White Nile, a mystery since Alexander the Great first posed the question.
But new research shows that John Hanning Speke's place in history was eclipsed by a jealous, charismatic rival, who stole the limelight by convincing others Speke was unscrupulous, disloyal and devoid of emotion.
Previously unpublished documents cast fresh light on Speke, showing he was very different to the character portrayed by his travelling companion, Sir Richard Francis Burton, whose denigrating image has long been accepted by historians.
Tim Jeal, author of a new book Explorers of the Nile, has unearthed evidence convincing him Speke's feats were "diminished by what a very skilful, clever but ultimately cynical person had done to him".
Speke had, in fact, fallen hopelessly in love with an African woman in Uganda and showed astonishing frankness in giving tribesmen and women sexual advice.
He also showed bravery. Apart from fighting off spear-wielding Somalis, he saved a wife of a Bagandan king from being beaten to death.
Speke, Jeal believes, should be in the pantheon of the world's greatest explorers. It was he who, in 1863, became the first European to reach Lake Victoria and find its outlet, still accepted as the Nile's main source, demonstrating how the world's longest river flowed through a vast desert without being replenished for 1931km by a single tributary.
"Burton became painfully jealous of Speke for upstaging him by 'discovering' Lake Victoria on a solo excursion during their joint expedition to Lake Tanganyika. For over a decade after Speke's accidental death, Burton did his utmost to persuade the British public that the dead man had been a deluded nonentity."
Burton was hailed as the first European to find Lake Tanganyika, but Jeal said he was a "relatively unsuccessful explorer" whose discovery was made with Speke.
Burton's condescending assessment of Speke's character was so devastating that seven Burton biographies published in the past 50 years supported his ideas, Jeal said.
The author argues that, while Burton is justifiably admired as a linguist and swordsman and for his "staggering 50 books", including translations of works such as the Kama Sutra, Speke was "looked down on".
Only one biography has been published about Speke 40 years ago. What damaged Speke most, Jeal said, was "the claim that he was not merely self-absorbed, but cold".
Biographers said he was "inhibited and prudish", with suggestions he was a repressed homosexual.
The new material shows Speke as more tolerant and insightful about Africans than most explorers of his day. In contrast, Jeal said: "Burton's racism is often forgotten ... his attitude to Africans was deplorable."
Part of Speke's poor reputation is because his parents did not keep his letters. Also, it seems, historians never used the manuscript on which Speke based his book The Discovery of the Source of the Nile, despite its availability in Scotland's National Library.
Jeal found extensive passages that had been deleted by Speke or his publisher, John Blackwood.
In one, Speke asked his readers to "be prepared to see and understand the Negroes of Africa in their natural, primitive or naked state; a state in which our forefathers lived before the forced state of civilisation subverted it". Blackwood insisted that praise for the "naked state" be deleted.
Jeal's book includes previously unpublished accounts of Speke's unrequited love for an 18-year-old African woman called Meri - his "beautiful Venus". He was dismayed by her unsentimental honesty in telling him that her reason for being with him was so that she "might die in the favours of a rich man".
Speke's enemies, led by Burton, were preparing a savage attack on him at a debate in Bath. But Speke died while climbing a wall holding a shotgun. It was clearly accidental, despite Burton's claim of suicide to avoid "exposure of his misstatements in regard to the Nile sources". Burton was knighted, Speke was not.
MIGHTY RIVER
* 6695km: Length of the White Nile, from its mouth in the Mediterranean to its source in Lake Victoria
* 9: The Nile and its tributaries flow though nine countries
* 105km: Separates the length of the Amazon (6800km) from the Nile, according to Brazilian researchers. Their conclusions are disputed.
- OBSERVER