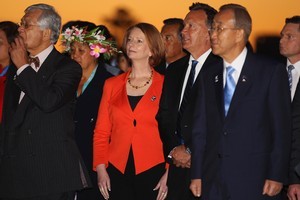 Australian Prime Minister Julia Gillard is showing full faith in the Wallabies taking out the Rugby World Cup title, making the point to Prime Minister John Key today as the pair exchanged the countries' jerseys.
"So this will be the winning one," Ms Gillard joked as she handed over the Australian team jersey this morning.
The jersey swap followed early morning talks between the leaders before the opening of the Pacific Islands Forum in Auckland.
Speaking to media after their discussions, the prime ministers announced a plan to extend funding across the Pacific as part of a recommitment to improving education in the region.
In addition to the current funding provided by the countries, New Zealand will give a further $145 million and Australia A$124.5m over the next four years.
"Today we're setting a target of over 500,000 more children in the Pacific getting education by 2021, ensuring that 75 per cent of children in the region can read by the age of 10," Mr Key said.
Currently there are believed to be about a million Pacific children not involved in formal education.
The countries would also each fund three post-graduate scholarships to commemorate the forum's 40th meeting this week.
The scholarships would cover areas that related to the Pacific Plan, including economic growth, sustainable development and security.
Ms Gillard said yesterday she was not intending to raise the issue of boat people with leaders at the forum, and reiterated that position today.
Her deal with Malaysia to swap boat people landing in Australia with a larger number of refugees from Malaysia has been ruled unlawful by the courts in Australia and has prompted renewed criticism of her leadership.
"I haven't come here to talk about questions associated with people smuggling, that would be premature, we will work in Australia on our response to the High Court case," she said.
- APNZ