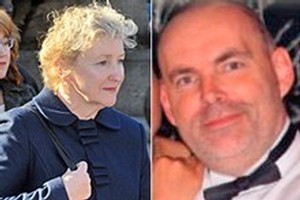 A Scottish jury took less than four hours to find Briton Malcolm Webster guilty of murdering his first wife and attempting to kill his second wife, from New Zealand, as part of an insurance plot.
Webster, 52, was convicted at the High Court in Glasgow of attempting to kill Auckland nurse Felicity Drumm by drugging her at locations in New Zealand and Britain between July 1996 and February 1999, to the danger of her life and the wellbeing of her unborn child.
Ms Drumm and Webster travelled to New Zealand in December 1998, and the New Zealander returned to Britain this year to give evidence against her estranged husband.
He was also found guilty of murdering Claire Morris, 32, in a staged crash in Aberdeenshire in 1994 for a life insurance payout.
Webster, from Surrey, drugged her, drove the car off the road and started a fire while she was unconscious in the vehicle.
He claimed his first wife's death was a tragic accident and denied the charges against him, but the jury of nine women and six men found him unanimously guilty.
Webster sat still and showed little emotion in court as the guilty verdicts were announced, the Press Association reported.
The jury earlier heard evidence from senior police investigator, Chief Inspector Phil Chapman, who said: "The thing that struck me was he was an individual who has, and will continue to have, an insatiable appetite for wealth and the trappings of wealth which knew literally no bounds.
"He basically has used his wife as a vehicle to obtain money.
"He literally spent over £200,000 ($410,000) in a six-month period (after the death of Claire Morris), so that basically took him back to being almost insolvent again."
The court heard Webster did not pay off his mortgage with the insurance payout, but lavished gifts on women he was involved with soon after Ms Morris's death.
After one of Ms Drumm's sisters contacted police with suspicions in 2006, officers turned their attention to a tissue sample from Ms Morris's liver that had been preserved.
Tests on the liver tissue revealed there was a 92.4 per cent probability temazepam, which can be taken to treat sleeping problems and for sedation, was in the sample.
"That clearly was a significant development for us in that Felicity Drumm's position was always that she had been drugged and that various tests had been conducted which had detected the presence of benzodiazepines in her body," Insp Chapman said.
A third woman, Simone Bannarjee, whom Webster allegedly attempted to bigamously marry and told he had leukaemia as part of a fraudulent scheme, gave teary evidence during the trial.
Other witnesses travelled from Peru, Yemen, Australia, New Zealand and America, including a string of women seduced by Webster over a decade.
The trial began on February 1 and was Scotland's longest criminal trial with a single accused.
- NZPA