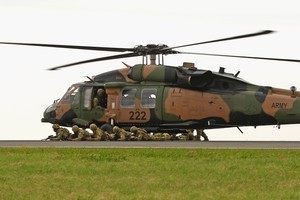 Australia's military is still not keeping an accurate check of its bombs, rockets, grenades, bullets and other explosives, the nation's auditors have found.
A review by the National Audit Office said that despite new procedures launched after missing weapons were recovered by police five years ago, gaps and flaws remained in systems designed to account for the Defence Force's A$3.1 billion ($4.2 billion) explosives stockpile.
Thefts from army stocks have included anti-tank weapons, rifles and sub-machine guns.
The NAO said the risk of loss or theft of explosives was greatest when it left depots for individual units of the army, navy and air force - and many of these were not recording the weapons on the Defence Department's general inventory management system.
"Instead, they relied on a range of inconsistent guidance for recording and managing their explosive ordnance, using stand-alone computer-based spreadsheets and manual stock recording systems," the audit of explosives management said.
"Defence had limited assurance over [military] unit holdings, which were not subject to an effective programme of monitoring and review."
The audit followed concern over the control of military hardware after a number of high-profile safety and security incidents involving explosives.
An internal security performance audit of weapons, munitions and ordnance was launched in 2006, when Federal Police investigated the origins of an M72 short-range light anti-armour weapon seized in a raid.
The shoulder-held weapon fires a rocket capable of destroying armoured personnel carriers.
Police alleged that 10 M72 rocket launchers had been stolen in 2002, one of which was recovered amid fears others had been sold to organised crime figures and passed to Islamic extremists.
A serving army officer and a former soldier were charged in connection with the theft.
Other, earlier, investigations included missing assault rifles, automatic weapons, ammunition and plastic explosive.
The NAO said strict management systems were needed to cover 75,000 movements of explosives a year from 17 depots to more than 800 magazines and storage lockers used by individual units around Australia.
"It is at this point that Defence's explosive ordnance becomes most dispersed, mobile and potentially vulnerable to loss or theft," its audit said.
It said problems arose because Defence could not automate an interface between its key ordnance management system and its general inventory records, meaning units frequently had to manually process large volumes of explosives transfers.
Compounding this was a lack of consistent and complete procedures and guidance on the processing of transfers, and the lack of an effective programme of monitoring and review.
"In practice, the arrangements for recording explosive ordnance transactions or holdings vary from service to service, and within the services, depending on the unit to which [it] is issued," the audit said.
"It is therefore difficult for Defence to gain assurance that all its explosive ordnance is visible and being managed in a properly controlled fashion."