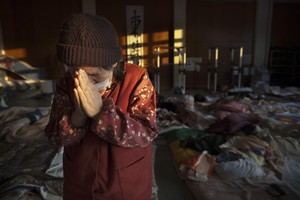 The earthquake is not what people fear.
It is mixed messages over the safe distance from the damaged nuclear plant at the Fukushima Daiichi plant.
At Sukagawa, 60km away, the signs of last week's magnitude 9.0 earthquake are clear: buildings pushed off their foundations.
Thousands of people are unsure what the safe distance is.
"I've heard that the Americans think it's 80km," said a shopkeeper to customers.
The official line is that those within 20km of the nuclear plant must evacuate and within 30km must stay indoors.
But Indonesia has advised citizens to get beyond 50km away.
As the people wonder what is safe, supplies like petrol run low.
Limited bus services have resumed - but the only seats available are for buses heading toward the areas hit worst by the earthquake and tsunami.