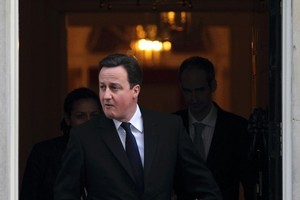 The dramatic resignations of Andy Coulson from Downing St and Alan Johnson from the shadow Cabinet have sparked a new debate about the absence of people from working-class backgrounds in frontline British politics.
Coulson, brought up in a council house in Essex, joined his local newspaper at 18 rather than go to university. Later he became editor of the News of the World.
As No10's director of communications he was a vital antidote to the image of "two posh boys" which has worried some Tories since David Cameron became leader in 2005 with Chancellor of the Exchequer George Osborne's backing.
Cameron allies insist that his new director of communications will not have to be "another Andy Coulson" - they may not find one. His background was a counterbalance to Cameron's other most influential aide, Steve Hilton. Cameron insists that what matters is "not where you come from, but where you want to take the country".
But after Nick Clegg's appointment as Deputy Prime Minister, there are three public (private) school and Oxbridge (Oxford and Cambridge)-educated figures at the top of the Coalition Government.
Today's political elite appears to reverse a recent trend. Between 1964 and 1997, every British Prime Minister had gone to a grammar school. In 2007, Gordon Brown became the first university-educated occupant of No10 not to have gone to Oxbridge. Now, it seems, the old public school order is reasserting itself.
Half the Cabinet and more than 100 MPs were Oxford-educated. A third of the 650 MPs, and two-thirds of serving Tory and Liberal Democrat ministers, went to private schools, including eight Old Etonians, led by Cameron.
There is little for Labour to crow about. A third of Labour's frontbench spokesmen went to Oxbridge, including all five runners in last year's party leadership race. Now Labour has lost the services of Johnson, who was brought up by his sister in a council house, became a postman and rose to become leader of the Union of Communication Workers.
"It is not just an issue for the Tories. Alan Johnson's departure shows that it's also a serious problem for us," one Labour frontbencher admitted.
"We do need to ensure that more people from ordinary backgrounds get into Parliament." Johnson's successor, Ed Balls, was educated privately at Nottingham High School before going to Oxford. His elevation to the job highlights another trend: the rise of a political class with little experience outside the political game.
Like his leader, Ed Miliband, Balls was an aide to Brown for several years before finding a Commons seat and climbing the ministerial ladder.
Trend-spotters detect another group - an "intellectual political class" cutting across party boundaries. Cameron is the first Tory Prime Minister to get a first-class degree at Oxford since Sir Robert Peel more than 200 years ago.
William Hague, the Foreign Secretary, went to a Rotherham comprehensive (state school) but got a first at Oxford. Ed Miliband and his brother, David, the former Foreign Secretary, were both educated at Haverstock Comprehensive School in north London, but took a masters degree at the London School of Economics and first at Oxford respectively.
David Davis, the Tory former shadow home secretary, who was raised by a single mother in a council house, sees the departure of Coulson and Johnson as part of a worrying trend.
Davis said Cameron and Osborne did not know what it was like to "scrape for the last penny" at the end of the week. "One of the criticisms that is often levelled at [the Tory leadership] is that they don't have a sense of what a large part of the country, the poorer part of the country, what their views and priorities are," he said.
"[Coulson] was somebody who brought that gritty, slightly tough, but necessary mindset to the Conservative leadership's thinking."
A CLASS APART
* 67 per cent of the current Cabinet attended top private schools, compared with just 7 per cent of the total population.
* 5 have fathers who were MPs, while two more married the daughters of Conservative Cabinet ministers.
* 3 including the Prime Minister, are former Etonians. Of the 119 members of the Government, 10 per cent are also from Eton.
* 2/3 of ministers were educated partly or entirely outside the mainstream state school system, and one in five went to one of the old established top private schools.
* 4 million adults would have gone to Eton, there would be no black people, and for every one woman there would be six men if Britain looked like its Government.
* 52 per cent of Liberal Democrat ministers went to state schools, compared with 35 per cent of Tories.100 per cent of Liberal Democrat ministers are white.
- INDEPENDENT