A quick wrap of how the Queensland media is reporting the devastating effects of the floods across the state.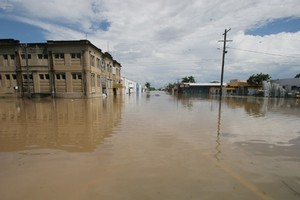 Authorities are on flood alert from Maryborough to Tweed Heads as Australia's flooding disaster spreads from Queensland into New South Wales.
The Lockyer Valley, west of Brisbane, has been among the worst hit, with at least four confirmed dead and another three reported to have died in flash floods yesterday.
A two-metre high torrent of water hit Toowoomba, sweeping a 42-year-old mother and her 13-year-old son to their deaths around 2pm, The Toowoomba Chronicle reported.
Two more bodies - reported to be an adult and a child - were found in Murphy's Creek just after 6pm.
Three children reportedly swept away yesterday while swimming in a flooded creek in Withcott have not yet been found.
Queensland Premier Anna Bligh told The Chronicle yesterday's flash floods are Queensland's "darkest hour" since the state's flood crisis began.
"The event that started in Toowoomba can only be described as a complete freak of nature, an extraordinary deluge that almost came out of nowhere," she said.
The Lockyer creek burst its banks the town of Helidon ring 8.5 metres in 66 minutes up until 3pm yesterday.
The mayor of Lockyer Valley, Steve Jones, likened the mess caused in the region, which lies west of Brisbane, to being hit by an "atomic bomb".
"I was just coming back from Withcott when all the heavy rain started. I was driving across about 10 inches of water and a wall of water just came down, picked my ute up and pushed it sidewards. It's gone now," Mr Jones told The Queensland Times.
"If it had been a little car it would have killed everyone in it."
Flood warnings have been issued for the Mary River, Sunshine Coast streams, and both upper and lower Brisbane rivers.
On the Fraser Coast, flood waters are expected to ease, although many towns remain isolated.
Fraser Coast Mayor Mick Kruger told the Fraser Coast Chronicle the main problem faced this week would be dwindling stocks of perishable food.
"We are trying to keep people calm but it's only Monday and businesses are already running out of food ... because we can't get through to Brisbane," Mr Kruger said.
In Gympie, baker Cathy Moore said she could not keep up with demand.
"It's absolute bedlam. We get the bread out and then it's gone," she told The Gympie Times.
The heavy rain and floodwaters, which have ravaged so many Queensland towns, have also now moved south to New South Wales.
Several towns west of Casino in northern New South Wales - Tabulam, Bonalbo, Old Bonalbo, and Urbenville - have been cut off by floodwaters yesterday, the second time in a fortnight, The Northern Star reported.
Flooding and slips have also cut off many major highways in the area.