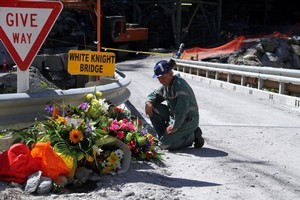 Residents of a New South Wales town devastated by a gas explosion in their local coal mine 31 years ago have started organising a state memorial service for the 29 men killed at Pike River Coal mine.
John Hennessey, of Ingleburn, has already invited a number of dignitaries, including NSW Premier Kristina Keneally and Governor-General Quentin Bryce, to attend the ceremony on December 7, at Appin Mine Memorial Garden.
The Appin district, 75km southwest of Sydney, was rocked on the night of July 24, 1979, by a methane gas explosion 3km underground at the Appin Colliery, and 14 miners were killed.
Mr Hennessey was a good friend of several of the 14 miners killed.
"I think someone had to make a move," he told the Macarthur Chronicle newspaper.
Mr Hennessey said it was appropriate the service be held in Appin. "It is a terrible tragedy and the bottom line is that we know what it's like because we've experienced it ourselves," he said.
Cessnock mining union leader Peter Jordan - who has started raising money for the families of the dead New Zealand miners and contractors - told the Newcastle Herald that Australian miners would provide continuing support for the families through the series of post-disaster inquiries.
He said the men probably died after the first explosion on November 19.
"The oxygen in their self-rescuers would have lasted about 35 or 40 minutes," he said.
Mr Jordan said it was "absolutely strange" that one victim, Joseph Dunbar, aged 17, was allowed into the mine on a Friday afternoon shift although he was not due to start his new job there until the following Monday.
This was not allowed in Australia: "In the first two weeks [here] they are not even allowed out of the classroom," he said.
"I just use that as one example that is an indication of the standard of safety at the mine site.
"We would not expect something like this would happen in an Australian underground mine."
NSW director of mine safety operations and chief inspector of mines Rob Regan said the Appin blast was NSW's last fatal underground mine explosion.
Mr Regan said tighter laws, better technology and mine design and risk-based mine safety had helped prevent blasts since then.
There are 29 underground coalmines in NSW, and Mr Regan said Hunter mines were gassy and those in the Illawarra even more so, while western coalfields had lower methane levels.
- NZPA