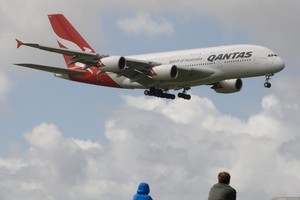 SYDNEY - Up to 14 Rolls-Royce engines on Qantas A380s will need to be inspected and possibly replaced, the airline's chief executive Alan Joyce says.
Rolls-Royce had indicated about 40 A380 engines needed to be swapped worldwide, Joyce said.
The airline expects to know within two days how many engines need to be taken off its planes so Rolls-Royce can make a modification.
"Rolls-Royce are still working through the criteria for which engines need to be changed," Joyce told reporters in Sydney.
Qantas grounded its six A380s on November 4 after oil caught fire in one of the fleet's Rolls-Royce Trent 900 engines on a flight over Indonesia.
The fire heated metal parts and caused the motor to disintegrate before the jetliner returned safely to Singapore.
Four days later, the airline said checks had revealed suspicious oil leaks in three engines on three different grounded A380s.
Joyce said yesterday that airline capacity had been reduced by 4 per cent due to the grounding of its A380 fleet. "Where A380s were planning to fly we've got 747s. Where 747s were planning to fly, in some parts of the network we've got 330s."
Qantas would seek compensation from Rolls-Royce once the A380s were back in the air, Joyce said.
Rolls-Royce had made changes to the design and manufacture of new A380 engines to stop oil leaks, but it had not done so to the engines on the Qantas A380 fleet.
Qantas is in talks with Airbus to replace some of its existing Rolls-Royce engines with new engines from planes still in production on the Airbus assembly line.
- AAP