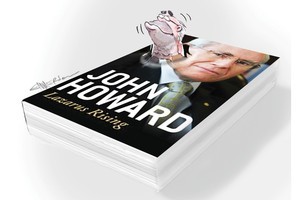 Iraq was John Howard's war. The former Liberal Prime Minister effectively committed Australia to the 2003 invasion on his own and later carried his Cabinet and party with him, against the overwhelming opposition of the nation.
Howard also remains passionately convinced that the invasion was correct, even though no trace was found of the weapons of mass destruction used to justify the war, and supports the legality of a pre-emptive strike if an attack by a hostile country could be expected.
In his autobiography, Lazarus Rising, Howard further confirms that within hours of the September 11, 2001, terror attacks on the United States, Iraq and the "unfinished business" of Saddam Hussein were back on Washington's agenda, despite acceptance that there was no connection between the two.
Howard argues the invasion was justified not only because of Saddam's defiance of United Nations resolutions relating to suspected WMDs, and the "reasonably entertained" belief that Iraq held such weapons.
"Even more importantly, it was a legitimate act of anticipatory self-defence against future terrorist facilitations by a regime which had a track record of both regional aggressions and support for terrorist activities ...
"It was neither unreasonable nor implausible of the Americans to believe that WMDs possessed by Iraq might, at some time in the future, be handed to a terrorist group for use against the United States or others, with horrific consequences."
For Howard, who had been in Washington during the 9/11 attacks and who had already invoked the Anzus treaty to join the US in Afghanistan, there was never any doubt that Australia would help in an invasion he regarded as inevitable.
Privately, as the US, Britain and Australia planned the war, Howard hoped someone would kill Saddam before the invasion was launched.
"I think about it all the time, have broken sleep, and hope that a later capitulation (very unlikely) or assassination of Saddam will remove the need for military action," he wrote in his diary.
But there would be no turning back. Howard believed that Australia needed to be a strong member of a global fight against terrorism and Islamic extremism, that he was bound to support the US alliance and, with former British Prime Minister Tony Blair, that failure to back Washington would help heighten emerging American isolationism.
Both were worried by the strident opposition of France and Russia to a military strike.
At home, Howard also faced powerful rejection of Australian involvement by the public and the Labor Opposition.
"I had contempt for Labor's position," Howard writes. "[Former leader Kim] Beazley had backed our troop deployment in 1998. This time his party had effectively tied its future action to the whims of [former French President] Jacques Chirac and [Russia's] Vladimir Putin."
Meanwhile, preparations for war were well under way. By early 2002 the US military was actively planning an invasion and, Howard writes, by July that year former President George W. Bush "was entitled to assume" Australia would take part, even though no commitment had been given. Australian officers had joined invasion planners in Tampa, Florida, and while the US, Britain and Australia supported efforts to win a new United Nations resolution, they held no expectations of success.
Howard backed the UN bid in the hope that being to seen to promote one more attempt would "reinforce ...the moral authority" of the US-led coalition, and because it would provide valuable political domestic help to an embattled Blair.
By January 2003 the first Australian forces were in place - an eventual deployment of SAS troops, Hornet fighters, P3 Orions and two warships - and in March Howard publicly committed Australia to war.
The Cabinet was not asked to endorse the invasion until the last moment.
Despite his admitted "intense" embarrassment at the failure to find WMDs after the invasion, Howard remains unrepentant. He says he acted on the best intelligence available to him, which concluded Iraq held WMDs, and that this decision had been justified by subsequent inquiries.
America's only failure, he writes, lay in not sending sufficient troops to police Iraq after the invasion. This was compounded by the disbanding of the Iraqi Army, which could have helped to maintain order.
He says America and its allies were justified in taking Saddam down: "There was a proper legal basis, flowing from the unrequited resolutions of the UN Security Council.
"Given the wholly understandable concern of the Americans after September 11, 2001, that there would be another attack, Saddam's past record, and the reasonably entertained belief that he had WMDs, meant that leaving him be was too great a risk for the US to take ...
"I found it inconceivable, given our shared history and values, that we would not stand beside the Americans. To baulk at that decision, purely on the basis that the Security Council had not passed another resolution - especially when it had been deemed necessary in 1998 when similar action was contemplated - seemed to me to be cloaking unwillingness to confront the substance of the issue with a thin and legalistic veneer. My attitude has not changed."