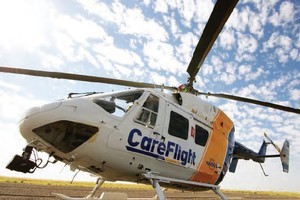 A CareFlight air ambulance.
Passengers aboard a cruise ship off the Queensland coast have been treated with antibiotics after a man fell ill with a suspected case of meningococcal disease.
An Australian CareFlight helicopter winched the man, aged in his 40s, from the deck of the Pacific Sun last night and flew him to the Gold Coast Hospital.
The ship is about 110km east of the Gold Coast travelling from Sydney to New Caledonia.
A Queensland Health spokeswoman said cruise company P&O had been in contact and had taken appropriate measures aimed at preventing any spread of the potentially fatal disease.
"The only thing you can do is give people the ProFlu Active treatment immediately," she said.
A P&O spokesperson told the ABC the crew had followed procedure and treated staff and passengers who had come into contact with the sick man.
There was a meningococcal outbreak on another P&O ship, the Pacific Sky, in January 2002.
Lorenzo Lombardo, 21, from Sydney, died from the disease six days after leaving a Pacific island cruise.
An Adelaide man who'd been on the same cruise was also diagnosed with the disease.
At the time, Mr Lombardo's family argued their son's death could have been prevented if South Australian authorities had notified health authorities interstate of the risk to other passengers.
A NSW coroner subsequently referred Mr Lombardo's death to health authorities, hoping they would consider mandatory reporting of some meningococcal cases.
Comment is being sought on whether that change has occurred.
Meningococcal disease is caused by a bacteria carried in the back of the throat and can be transferred from person to person through fluid from the nose or throat of an infected person.
- AAP