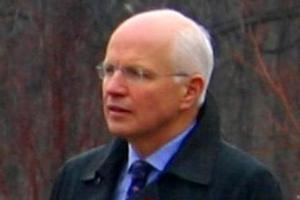 A Canadian government minister has resigned from his position because he couldn't face having to make a trip to New Zealand.
Greg Thompson, 62, said he had made too many trips in his time, and the thought of the slog to New Zealand was just too much.
Mr Thompson was to have made his visit as Canada's Minister of Veterans Affairs, New Brunswick's Telegraph-Journal newspaper reported.
Years of hopping jets to travel the world had worn him down, he told the newspaper, and New Zealand was the straw that broke the camel's back.
"I was scheduled to go to New Zealand in a couple of weeks ... but I wasn't looking forward to it because of the length of these trips and the time that you have to invest into these trips," he said.
"The expectations for you are very high and you're working all the time. It's a full-time, all-the-time job and your families suffer because of that - you just can't say no to engagements and put them off."
Mr Thompson will remain as a backbench MP.
"It's not an easy decision to reach because I truly enjoyed what I was doing, right up to the last day," he said.
Wanting to leave on his "own terms", he resigned from his position effective immediately.
Canadian Prime Minister Stephen Harper called Thompson a respected parliamentarian and a "true champion" of Canadian veterans.
"As Minister of Veteran Affairs, Greg tirelessly worked to ensure the sacrifices that Canadian Forces personnel make to defend our values are properly recognized and honoured by all Canadians," Harper said in a statement.
- NZPA, NZ HERALD STAFF