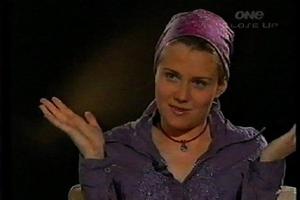 BERLIN - Natascha Kampusch, the Austrian woman who was kidnapped on her way to school and held captive for eight-and-a-half years, has spoken to the Süddeutsche Zeitung newspaper of her despair at failing to come to terms with her freedom and lack of privacy, reports The Observer.
It has been three years since Kampusch escaped from Wolfgang Priklopil as he cleaned his car.
"I suffer from anxiety attacks and have become like a hermit," the 21-year-old told the Süddeutsche Zeitung.
In the interview, Kampusch also said sometimes she even yearned for the security of her cellar prison. "In my cellar, I was perfect, self-contained and complete. Today I feel like people have taken away my ability to be myself."
Kampusch, who now lives alone in a small flat in Vienna, said she had almost reverted back to the life she had as a prisoner in the interview.
It is said that Kampusch stays at home most of the time because she is sick of the insults she says she receives when she goes out.
The Observer reports that people tell her she should return to the cellar where she was held, while others accuse her of being a gold-digger, pointing to the small fortune she has earned in book royalties and interview fees since her release.
Much of her earning have been donated to charity. But that has not appeased critics.
"One minute I was a princess, the next I was a witch," she said in the interview.
When she donated €25,000 (NZ$52,300 approx) to Elisabeth Fritzl and her children, who were also held hostage for years, Kampusch was ridiculed by those who said she was trying to keep herself in the headlines says The Observer.
"I have to constantly defend myself," she said. "But I am who I am," Kampusch told the Süddeutsche Zeitung
It is a far cry from the attention Kampusch received immediately after her escpae.
Within two weeks after gaining freedom, Kampusch had given her first interview. She later presented her own television chat show, interviewing celebrities such as former Formula One driver Niki Lauda.
But then she suddenly withdrew from the limelight finding the attention intrusive.
She gained unwanted media attention after she was spotted at the Salzburg festival with an Austrian prince, and was photographed in a disco kissing her lawyer's son.
She is also said to get requests for autographs and is constantly being photographed, which she does not enjoy.
Kampusch has broken off all contact with her father, Ludwig Koch, and is said to have a tense relationship with her mother, Brigitta Sirny, particularly after she revealed in a 2007 book that her daughter had visited Priklopil's coffin to say goodbye after he threw himself on to train tracks hours after her escape, reports The Observer.
In the past Kampusch has talked little about her kidnap ordeal. She remains attached to the house where she was held and of which she is now the legal owner says the UK paper. It reports neighbours say she is there at weekends, cleaning and doing repairs.
"It's part of my identity," she said in the interview, "a sort of extension of me."
Nevertheless her life is still in limbo, she said in the interview. "I've felt my whole life long that I'm watching the trailers, and I'm just hoping that the film is about to begin."
- NZ HERALD STAFF