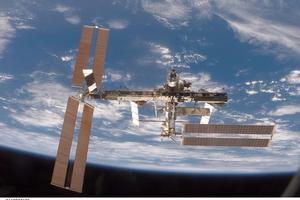 If all goes well, the space shuttle Endeavour will blast off tomorrow morning, carrying seven astronauts to rendezvous with the International Space Station. Then just seven more flights remain before the 33-year-old shuttle programme ends next year and the fleet of ageing spacecraft is retired.
And then what? Will America's space destiny fizzle on the Florida launch pad, grounded by economic realities and competing political demands? Or will President Barack Obama somehow find the funds to break free from the low orbit where American space missions have been stuck since the crew of Apollo 17 returned from the moon in December 1972?
Five years ago it seemed the Americans were on the brink of a new era in lunar flights.
In January 2004, George Bush invoked the spirit of John F. Kennedy with a speech full of flourishes about the noble ideals of space exploration.
The United States, he said, would return astronauts to the moon by 2020, aim at establishing "an extended human presence", and use the lunar base as a platform for "human missions to Mars and to worlds beyond".
Bush's vision had the effect of getting Nasa's feet once more off the ground. For years the agency had focused on the effects of climate change and the risks of greenhouse gas emissions.
But Bush did not commit sufficient funds for his ambitious dream and Obama has asked an expert panel to review the costly manned space programme, called Constellation, designed to hurl a new generation of astronauts beyond the pull of gravity.
The panel, which includes Sally Ride, the first American woman in space, is due to report back by the end of August. Norman Augustine, a former Lockheed Martin chief executive who chairs the panel, admits it all comes down to money.
"With a few exceptions, we have the technology or the knowledge that we could go to Mars if we wanted with humans. We could put a telescope on the moon if we wanted," he said.
"The technology is by and large there. It boils down to what we can afford."
The Constellation project comes with a supersize price tag of US$150 billion - and no guarantee that it will work. Developers of Ares I, the first rocket in the Constellation project, reject claims that costs have spiralled out of control. But plans to build a four-seat Orion spacecraft that would be launched on the Ares rocket system have been beset with technical difficulties and heavily criticised.
If the Constellation programme is scrapped, it risks leaving the US without the capability to send humans into space after the shuttle is retired in 2010.
Politicians and former astronauts fear the 2020 deadline will be foiled by financial constraints.
Senator Bill Nelson, a of Florida said: "Nasa simply can't do the job it's been given - the president's goal of being on the moon by 2020."
Michael Griffin, a former Nasa chief who championed the Constellation programme, warned that America had concentrated for too long on space shuttles while rivals, such as China, were emerging with more ambitious goals.
"I think we must return to the moon because it's the next step. It's a few days from home. Mars is only a few months from Earth," he said.
The arguments underline that space is not just dangerous, it is very expensive - at a time the US economy is squeezed from all directions.
Endeavour's latest blast-off was delayed twice because of fuel leaks, holdups which cost Nasa about US$1 million. Tomorrow's scheduled launch will cost American taxpayers US$450 million.
The shuttle programme ends following increasing concerns about its safety in the wake of the Columbia disaster in 2003, when the spacecraft disintegrated during re-entry into the Earth's atmosphere after its heat shield was damaged during launch.
Hundreds of jobs are expected to be cut over the next year as Nasa pensions off the shuttles. Already, orders for any future solid fuel tanks used on the rocket boosters have been cancelled as Nasa says it has enough for the remaining flights.
Without help from private space companies, Nasa may be forced to buy its astronauts seats on the Russian Soyuz spacecraft. Alternatively the US could seek seats on vehicles being developed by China and India.
If it is unable to reach a suitable deal it could mean the US will be unable to get its astronauts to the space station.
Last year the agency drew up contracts with two private companies, Orbital Sciences and Space X, to develop cargo vehicles for missions in low Earth orbit. It also launched a competition for a commercial vehicle that could transport supplies to the station.
Officials hope the private sector will develop vehicles that can transport people, provided they meet strict safety requirements.
One said: "We have spent a considerable amount of time helping to build the International Space Station, so we wouldn't want anyone flying into it.
"If we were to trust US assets, including our astronauts, to privately run spacecraft, we would need to be safe."
Nasa has also raised the prospect of renting out space on board the station to commercial companies, including pharmaceutical firms, so they can carry out research in a microgravity environment.
William Gerstenmaier, associate administrator of the Nasa Space Operations Mission Directorate, said: "We may even attract some other users to Space Station, some commercial companies that would be interested ... When I think of commercial, I think of things maybe in the pharmaceutical area, maybe even in the antenna development area, maybe in some rocket engine test stuff, some optical sensor stuff."
The cold reality is that funding for the Nasa programme remains an extremely sensitive political issue.
Last month a new report from Houston's Baker Institute declared that the agency should give up any ambitions of sending humans to the Moon and focus instead on climate change.
Charles Bolden, a former astronaut and Marine Corps pilot picked by Obama to lead Nasa, this week vowed to help the agency regain its lustre and romance for young Americans.
"Years ago, when I went to speak in schools and asked, 'How many of you want to be astronauts?' all the hands went up," Bolden said. "Now only two or three hands go up."
Bolden, 62, politely but pointedly rebuffed Bush's Mars ambition.
"It's a long way to Mars," Bolden said. "I want to go to Mars. I think everybody wants to. [But] Mars is a 20-year venture... I cannot go out and tell a kid, 'I want you to come to work for Nasa because we're going to Mars."'
Endeavour's 16-day mission which starts tomorrow is a reminder that the US continues to chalk up feats in space. The shuttle leaves for one of the longer international space station visits - nearly two weeks docked at the orbiting outpost. Crew will undertake five spacewalks, and the cargo includes hundreds of kilograms of food for the six station occupants. Once the shuttle docks, there will be 13 people together in space for the first time ever. President Obama's review may determine whether that number is an unlucky omen for American's dreams in space.
THE RACE TO SPACE
China and India are hot on the heels of America in the charge to push into space.
Five years ago Yang Lee Wei became China's first astronaut, a feat which underlined the fact that Beijing could achieve what it wanted without getting budgets approved or policy endorsed.
Unlike the hoopla which attended the Apollo moonshot 40 years ago, the world may not know whether China wants to land on the moon until it does. It boasts of its triumphs, but the regime conceals its failures.
Former Nasa administrator Mike Griffin said he believed China had the capability to get to the moon and he wouldn't be surprised if the next person to walk on the moon was Chinese.
India is the other nascent space nation.
India worked with the Soviet Union in the 1970s on space programmes and flew its first cosmonaut in 1982. Delhi has committed US$1.2 billion to a 10-year plan for human space flight and has sent a robotic probe to the moon.
Both China and India have a telling advantage over the Apollo years - they are streets ahead in technology.
Japan has also got into the space act. It has a big laboratory at the International Space Station, where Japanese astronauts have been going for nine years.
Tokyo wants to land robots on the moon to collect samples and return to Earth around the year 2020, followed by a manned resource survey mission sometime between 2025 and 2030.
'THAT'S HOW RISKY IT WAS'
"We set sail on this new sea because there is new knowledge to be gained, new rights to be won, and they must be won and used for the progress of all people. For space science, like nuclear science and all technology, has no conscience of its own."
President John F Kennedy, September 12, 1962, announcing the Apollo programme.
"I'm thinking that 'every one of the one million parts behind and beneath me were built by the guy who put in the lowest tender'. That's how risky it was. It was quite miraculous there wasn't a catastrophe."
Apollo 8 commander Frank Borman when the Saturn V rocket engines lit up.
"Any mistake would be immediately apparent to three billion people and that's a worrisome thought."
Michael Collins, Apollo 11, orbiter module pilot
"Fate has ordained that the men who went to the Moon to explore in peace will remain on the Moon to rest in peace. Neil Armstrong and Ed Aldrin know there is no hope for their recovery but they also know there is hope for mankind in their sacrifice."
Speech prepared for President Richard Nixon to be read had the astronauts not made it back.
THE MEN WHO WALKED ON THE MOON
* Neil Armstrong, Apollo 11
* Edwin (Buzz) Aldrin, Apollo 11
* Charles Conrad, Apollo 12
* Alan Bean, Apollo 12
* Alan Shepard, Apollo 14
* Edgar Mitchell, Apollo 14
* David Scott, Apollo 15
* James Benson Irwin, Apollo 15
* John Young, Apollo 16
* Charles Duke Jr, Apollo 16
* Eugene Cernan, Apollo 17
* Harrison Schmitt Apollo 17