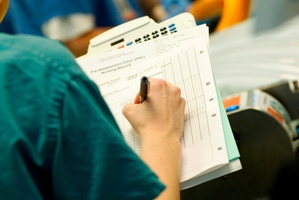 A former nurse who gave a patient the wrong medication and then took two days to own up to her mistake has been found guilty of professional misconduct.
Monique Draper, who until September 2010 worked at Auckland's North Shore Hospital, has been censured by the Health Practitioners Disciplinary Tribunal for her treatment of Gary Ward.
Mr Ward, 69, was in the care of Ms Draper when he received a cocktail of incorrect medication.
A tribunal decision released today detailed how Ms Draper, who first registered as a nurse in 1986, gave Mr Ward medication intended for another patient after a mix-up in paper work.
He died about two hours after being given the medication - however it is not known whether this directly caused his death.
According to the decision, Mr Ward was admitted to North Shore Hospital after a heart attack on September 11 2010.
He was looked after by Ms Draper, a duty co-ordinator at the time, from the afternoon of September 13.
While under her care, Mr Ward's chart became pinned with another patient's chart.
As a result, Mr Ward received this patient's medication instead of his.
While two of the drugs he took were in incorrect doses, a third administered had never been prescribed to him.
Ms Draper also failed to take his heart and blood pressure before giving him the medication.
Although she discovered she had administered another patient's medication to him later in the evening, Ms Draper failed to alert anybody to her error, the decision stated.
Mr Ward died about 7.10pm.
It then took Ms Draper two days to report her error to Waitemata District Health Board's clinical nurse educator Rebecca Lloyd.
At the meeting, she was told to take pre-arranged leave, and subsequently stood down following an investigation into her actions. Mr Draper was eventually dismissed from her job.
Tribunal chairman David Carden stated in his decision that a clear message needed to be sent to the nursing profession and the public that nurses should not make errors, but if errors were made they should be addressed as quickly as possible.
"The fact of the matter is that Ms Draper learned of her error but did nothing."
While Ms Draper has been allowed to continue working as a nurse, strict conditions regarding her practice have been imposed.
These include being supervised in the administration of drugs.
She has also been ordered to pay a contribution of $12,000 towards prosecution costs.
Mr Carden said in his decision the tribunal had been told Ms Draper had not worked as a nurse since October 2010 and had since moved to Australia with her husband.
Mr Ward's death is still being investigated by the coroner.
Ms Draper has not registered as a practitioner with the Australian Health Practitioner Regulation Agency - the national body responsible for regulating health practitioners in Australia.
- APNZ