Council refuses to name contractor who has twice failed to fix old brick stormwater drain in Freemans Bay.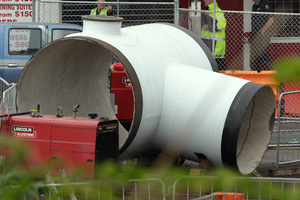 A stormwater project in Freemans Bay has cost ratepayers $201,000 and dangerous underground working conditions have raised safety concerns, according to a source.
The Auckland Council is refusing to name the contractor who has twice failed to fix the old brick pipe in Runnell St and will not release a review of the project by an engineer.
The work is "extremely dangerous" and a number of health and safety incidents have occurred on the project, a source told the Herald.
The council would not comment on specific incidents, but said health and safety was paramount and extra measures had been implemented, including a standby rescue team when men were working underground.
"A comprehensive site-specific safety plan, along with safe work method statements, have been required for all stages of the project," the council's statement said.
Stormwater manager Craig McIlroy initially told the Herald the council had some technical issues it was working through with the contractor but would not elaborate.
"This is a normal, day-to-day issue that occurs from time to time on contracts. It is nothing of any major significance," he said.
After an appeal by the Herald to Mayor Len Brown and chief executive Doug McKay for more details, Mr McIlroy released more details.
He said the Runnell St pipe was a 1070mm-diameter brick barrelled pipe that was at least 80 years old and had become deformed. It was a challenging job to reline the pipe to provide structural support using proven overseas technology for the first time in New Zealand for a pipe of this diameter.
After a contested tender, a contract for $244,000 was awarded July 2011. To date, the contractor has been paid $110,000, the project manager Beca $66,000 and an engineer $25,000 to review the project.
The council would not name the contractor, saying it was "commercially sensitive" information.
It also refused to name the engineer and release the review of the project.
Mr McIlroy said the council was "evaluating its future options".