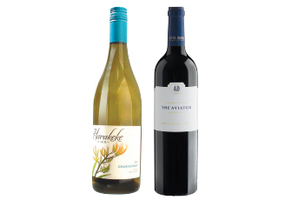 Picking great wines isn't much different from spotting a rising sports star.
Take my grandson's rugby team down in Christchurch. They're only 5-year-olds, but there's this one snowy-haired boy; he's short, fast, can step off either foot and seems to score every time he touches the ball. Barring injury and given the right encouragement, he could at least become a Crusader, possibly even an All Black.
Then there are the wines that vie for our attention from within the scrum of the reasonably priced - there is always the odd one that pops up with enough nous to hold its own against far more illustrious, international competitors. And, having just tasted the second and third vintages of the latest offerings from Nelson producer Harakeke Farm, I can say that this is not only a vineyard to watch but, given the astonishing quality of their chardonnay and pinot noir and (for now) bargain prices, they will quickly establish a large following.
What makes their achievement all the more remarkable is that such excellence has been extracted from relatively young vines. So, all credit to former Neudorf viticulturist and assistant winemaker Andrew Sutherland, who learned much of his craft at one of the country's outstanding producers.
Then, while more reassuring than surprising, it's good to see a more established player, Alpha Domus, continuing to make wines with that mystical ability to take you to another place. I've always been impressed with this Hawkes Bay winery and, under veteran winemaker Kate Galloway, their top-end AD label still delivers magic in a bottle.
You can't let the newbies have it all their own way.


Recommended
2012 Harakeke Farm Chardonnay - $28
For those who like their chardonnay to be quietly understated but with enough stonefruit flavours, minerality and balance to give a nod to the Burgundian style.
2010 Alpha Domus AD The Aviator - $72
A Bordeaux varietal blend of cabernet sauvignon, cabernet franc, merlot and malbec. Established in the early 90s, this wine is made only in exceptional vintages. It is fragrant, elegant, rich and magnificent.