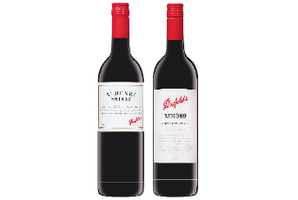 Australasia's most expensive, revered red wine, Penfolds Grange, has released its latest vintage.
It has already received rave reviews and perfect scores internationally and plenty of people will be lining up to pay more than $800 a bottle, such is the wine's pedigree and reputation.
Although many wine lovers will gasp in disbelief at such a price, there are serious, well-off collectors who will happily buy a case or two.
The 2008 vintage was one of two halves in the Barossa Valley, where Grange grapes are grown. Wineries who, like Penfolds, harvested their grapes before the well-documented 16-day South Australian heatwave in March, fared well. Late pickers did not.
Naturally you want a lot of sunshine to get grapes to optimum ripening level but you don't want them shrivelling on the vine. Timing can be everything when it comes to harvesting grapes, and if you get it right there's a high chance, in the hands of an excellent winemaker, you will produce a wine of genuine legendary status.
Penfolds' Steve Lienert has more than 40 years' winemaking experience, 35 of them with Penfolds, and knows how to turn a superb bunch of grapes into something really special.
"2008 is probably our strongest release of Penfolds ever," he says. "This is a wine that will take bottle-age really well."
He reckons the wine will still be drinking well up to 2056 - but I'll have to take his word for it.
The 2008 is not all shiraz; there's a hint of cabernet sauvignon (2 per cent) just to "add a little interest and structure", says Lienert.
With 14.5 per cent alcohol, this is, as you would expect, a muscular wine but not overwhelming. It has subtle flavours of blueberry, mocha, licorice, malt, figs and panforte, all blending seamlessly with pronounced but smooth tannins.
Is this one of the greatest Granges ever? Having tried all but two from 1959 to 2008, I would say, in a word, yes.
Fortunately, though, there are less expensive, great quality Penfolds options. The recommended ones are still pricey but don't require a bank loan.


Recommended
2009 Penfolds St Henri Shiraz - $110
The first release was 1957 after four trial vintages. This wine has a little oak character with huge, sensuous aromatics and a smidgeon of cabernet (3 per cent) added from the Adelaide Hills to give it another dimension. It is magnificent and smoothly understated.
2010 Penfolds Bin 389 Cabernet Shiraz - $70
This wine came to the market in 1960 and helped establish Penfolds as a producer of serious sensual reds. Cabernet provides the structure and combines beautifully with the richness of shiraz. This is often referred to as "Baby Grange".