Kiwi craft brews stand out at an Australian beer festival, writes Don Kavanagh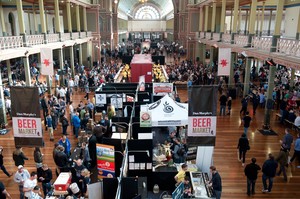 I'm not long back from a great beer experience in Australia, where I learned two things: I love smoked beers and New Zealand is really doing very well in the craft brewing world.
The Great Australasian Beer Spectapular (yes, tapular - see what they did there?), or Gabs, was a marvellous occasion held in the suitably grand environs of the Royal Exhibition Building, a glorious steampunk Victorian structure that proved perfect for the enjoyment of some 90 specially prepared beers.
It was well organised, with great music, easy access to the bars and free talks. Growing from a small celebration of Australian craft beer held in the Local Taphouses two branches in Melbourne and Sydney, at this year's event overseas beers from the US, UK, Italy and, naturally, New Zealand joined the fray.
The first two I tried were Kiwi ones, and it was nice to see so many great Kiwi beers there and so many Aussies drinking them. Talking to punters it was clear that there was a lot of interest, and envy, about how healthy the craft scene here is.
The beers designed especially for the festival were outstanding, but the Kiwi brews really shone. From 8 Wired's Merge Like A Zip Imperial IPA to Yeastie Boys' Golden Age of Bloodshed, there was a class and quirkiness about them that set them apart. Favourites were the McCashin Great Oak, a smoked red ale of beautiful balance and flavour, the Renaissance Enlightenment (a milder version of their Stonecutter Scotch Ale) and Golden Age of Bloodshed, heavily beeted as it was.
But it would be churlish and wrong to suggest that this was a Kiwi masterclass. Australian breweries are doing a great job and my favourite beer was from Tasmania; Iron Horse's Holy Smoke, a marvellously smoky black IPA. Byron Bay's Stone & Wood was another brewery that caught my eye. Its Pacific Ale is gorgeous, almost sorbet-like in texture, and its Jasper was a satisfying pale ale with a nice coppery malt burst on the palate. To say there wasn't a bad beer to be had would probably be overstating the case, but the truth is that craft brewing is so far down the track of excellence that it has created its own momentum, and is carrying a lot of people along with it.
Gabs was an excellent showcase for the subtle differences between Aussie and Kiwi craft beer, but it was a perfect showcase for craft brewing generally. Our own big show, Beervana, kicks off in a couple of months' time in Wellington and I'd urge everyone to get to it because if you love beer, you'll fall down on your knees and propose to Beervana.
Also, you get the chance to try some beers being made specially, including one that I'm making with Deep Creek Brewing (which will be doing all the heavy lifting when it comes to actually getting something drinkable in a keg). I'll let you know how we get on.