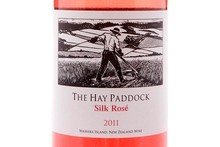 Some fresh finds that should make for great summer sipping.
Stanley Estates Marlborough Sauvignon Blanc 2011 $22.95
The season's first sauvignons are just starting to be seen on the shelves. From my tastings so far, 2011 seems to have produced some impressive specimens, such as this elegant example from the Awatere Valley with its notes of blackcurrant leaf, savoury herb and fresh mineral finish. (From Kohi Corner Bottle Shop, Epsom Wines and Spirits, St Heliers Wines and Spirits, Kepa Fine Wines, Ohope Liquor, Mount Liquor Mart, Coopers Beach Liquor Mart, Parua Bay Liquor.)
Misha's Vineyard Limelight Central Otago Riesling 2010 $27.99
With its mouthwatering freshness and frequently low alcohol levels, riesling is one of the ultimate summer wines. This crisp and pretty one from Central Otago combines delicate florals with hints of clove, flinty undertones and juicy citrus. (From Fine Wine Delivery Company, Glengarry.)
The Hay Paddock Silk Waiheke Rosé 2011 $29.95
Another classic seasonal style is rosé, one of the great success stories in recent years.
While many are on the sweet side, this rose made from syrah is a delicious bone dry style, with notes of crisp apple, strawberry and raspberry fruit and a subtle hint of spice. (From Bacchus, Artisan Wines, Waiheke Wine Centre, )
Mount Hector Wairarapa Pinot Noir 2009 $16.99
Lighter reds work well in the warmer months, and you shouldn't be afraid to stick them in the fridge for a short while as they're better drunk on the cooler side than too warm. This is a perfect picnic pinot noir, with light, bright and juicy red cherry fruit, a savoury undercurrent and a subtle whiff of smoke. Great value too. (From St Heliers Bay Wines & Spirits, Bacchus, Beach Haven Liquor, Blend, Bucklands Beach WInes & Spirits, Epsom Wines & Spirits, Hillcrest Fine Wines, Kohi Corner Bottle Shop, Scorpion Liquor, The Hamilton Wine Company.)
Papa Luna Calatayud, Spain 2008 $24.99
If you're firing up the barbecue, a good bet is a robust red that has lots of fruit and is low in tannins. Made by Master of Wine Norrel Robertson, this gutsy blend of garnacha, syrah, mazuelo and monastrell from 70 to 100-year-old bush vines possesses the power to pair with the big charry flavours of barbecued fare in its supple dark cherry and briar fruit, notes of grilled meat, earthy spice and hint of bitter chocolate. (From independent wine stores including Fine Wine Delivery Company, Point Wines, La Vino, Village Winery.)
By Jo Burzynska