Each week, Wendyl Nissen takes a packaged food item and decodes what the label says about its contents.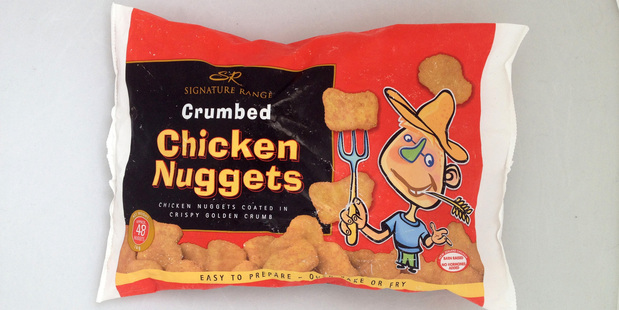 Signature Range Crumbed Chicken Nuggets - $13.95 for 1kg
It's been two years since I last looked at chicken nuggets and the only reason I am looking at these now is because my 14-year-old daughter confessed that while we were away overseas recently she "lived on them".
She was being looked after by her adult sister who is a vegan, so I can only presume a very blind eye was turned at dinner time.
I have only myself to blame as I let my daughter eat thousands of these as a toddler, like many parents, because they were quick and easy to prepare.
Since then, I have learned how to read labels and watched far too many Jamie Oliver shows to allow them back in the house. "But at least I chose the ones with the most chicken," said my daughter in her own defence.
She is correct; these chicken nuggets contain 56 per cent chicken as opposed to the 31 per chicken content of the Tegel nuggets I analysed last time. So we're ahead when it comes to real food ingredients.
Chicken (56 per cent)
According to the label the chicken in these nuggets is from New Zealand, is barn-raised and has no hormones added. The SAFE website says barn-raised hens are kept in large sheds with limited space and no access to outdoors. Up to seven hens can be kept per square metre. So we're not talking free-range chickens here. Other nugget manufacturers say their chicken is breast meat, but there is no indication what parts of the chicken are used in these nuggets. So there is no way of knowing if waste material such as carcasses and skin are in here.
Water
Wheat flour
This is most probably an ingredient in the crumbing mixture.
Vegetable oil (sunflower,canola)
Hurray for having the name of the oil listed in the ingredients panel. Both oils are low in saturated fat.
Salt
Soy protein
This is a protein obtained for soybeans which is commonly used to fill out processed foods.
Starch (maize, tapioca)
This will be in here as a thickener similar to cornflour except the starch comes from maize (corn) and tapioca.
Yeast
This will be part of the breadcrumb mix.
Maltodextrin (from corn)
This is a form of sugar obtained from corn. The corn is cooked and then acid or enzymes are used to break the starch down. Some people are sensitive to maltodextrin if it is made out of barley or wheat, so it is good that this label tells us where it has come from. Maltodextrin is commonly used in processed foods as a thickener which is why it is probably in here.
Sugar
Emulsifier (472)
This is fatty acid esters of glycerol and will be in here to stabilise the chicken mixture.
Hydrolysed soy protein
This is similar to the soy protein (above) except the soy has been boiled in hydrochloric acid and then broken down with sodium hydroxide to release the protein. It is used in foods as a flavour enhancer but also as a filler.
Flour treatment agents (510, 300)
These are ammonium chloride (510) and ascorbic acid (300). Both will be in the flour to treat it in some way when making the breadcrumbs.
Spices
These will be in here for flavour.
Vegetable gums (412,415)
This is guar gum and xanthan gum. These are natural gums often used in products as binders.
Natural colour (160)
This is carotene which is a natural orange/yellow colour.
My recommendations:
As far as additives go, these have no MSG, unlike the Tegel nuggets, and no additives with health concerns.
But you are still getting only 56 per cent chicken in each nugget, the rest being made up by soy protein, thickeners, binders and colour. And while the amount of chicken is higher than Tegel nuggets, the source is not identified.
If it was just breast meat that's okay, but the possibility of other parts of the chicken, possibly waste products, isn't great. I would try to wean my family off processed meats like this and for a quick meal which takes the same time to cook grab some chicken nibbles which are small, fast cooking but are recognisable as parts of a chicken wing. I think it's good to teach our children to eat food that represents something real, rather than something processed.
Highlights:
* No MSG or additives with health concerns.
* 56 per cent chicken but parts of chicken used unknown.
* Barn-raised NZ chicken, not free-range.