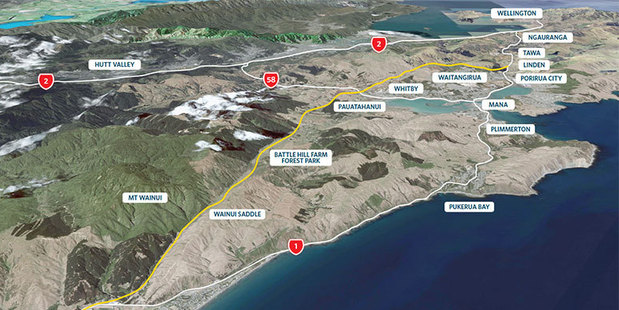 Work starts this spring on the country's biggest new infrastructure job.
The $1 billion Transmission Gully got final sign-off on July 29 when a statement was issued by several of the parties involved.
But the real job of creating the country's biggest new motorway in some of New Zealand's most challenging terrain will begin when the ground dries out enough in late spring or early summer.
Then the big diggers and scrapers needed for earthworks preparation will be brought to the steep, hilly sites and the real job will get under way.
"Preparatory work will commence in the third quarter of 2014 and at its peak the construction phase will employ approximately 700 people," according to information at tg.co.nz.
The public-private partnership project is for the financing, design and construction of a 27km express standard motorway north of Wellington, with a 25-year operations and maintenance contract.
The new motorway will bypass the existing State Highway 1 coastal route and aims to increase road safety and improve network reliability with high levels of seismic resilience. It is also picked to be a catalyst for economic growth in the Wellington region.
The work will be carried out by the Wellington Gateway Partnership and the project is New Zealand's first state highway to be delivered as a PPP.
Under that arrangement, the partnership will finance, design and build the motorway, and then operate and maintain it from 2020 till 2045.
Leighton Contractors is the special-purpose vehicle manager for the partnership, has a majority role in the design and construct subcontract with JV partner HEB Construction, and will perform all the operations and maintenance subcontract.
Equity investors in the project are the Leighton Group, InfraRed and ACC.
BTMU is financial advisor with funding from local and international banks.
Leighton Contractors is a wholly-owned subsidiary of Leighton Holdings, one of Australia's biggest contracting and project development groups, with more than $13 billion of work on and employing about 14,000 people here, in Australia, Papua New Guinea and Africa, working in the infrastructure, telecommunications, civil construction, industrial, energy, health and services sectors.
HEB Construction is one of the biggest privately-owned civil construction companies in New Zealand, employing more than 700 people. It was founded about 35 years ago.
HEB says it "brings a range of essential services to the Transmission Gully project such as structures, roading, drainage, landscaping, temporary traffic management, surfacing and precast concrete element capability".
Its current roading projects include Wellington's Memorial Park Alliance, the Waikato Expressway's Cambridge Section, Tauranga Eastern Link joint venture, and Auckland's Greville Road Interchange.
InfraRed Capital Partners describes itself as "a leading global investment manager focused on infrastructure and real estate, creating real value for its investors, project partners, communities and end users". It manages US$7 billion of equity capital in specialist funds investing in infrastructure and real estate which it develops and operates.
Infrared says it has "invested in over 50 development projects with capital expenditure of about US$25 billion. Its 100 staff are deployed across offices in London, Hong Kong, New York, Paris and Sydney."
The Bank of Tokyo-Mitsubishi UFJ is Japan's biggest bank and one of the world's largest, with offices in 40 countries. It has been in New Zealand since 1972.
ACC is an equity and debt partner in the Wellington Gateway Partnership and a major institutional investor in a range of businesses throughout New Zealand, many listed on the NZX.
Transmission Gully
• 27km of road works on a greenfields site, to build a four-lane expressway
• Three grade-separated interchanges
• 30 bridges with a total combined length of 1.17km
• One 270m bridge at Cannons Creek
• Annual average daily traffic: 22,300 vehicles north of SH58 and 20,000 vehicles south of SH58 in 2026
• Design accommodates 11 geological terrains and must ensure seismic resilience
• Project highly complex, with difficult and steep terrain requiring large-scale earthworks
• Construction will begin late this year
• Motorway scheduled to open to traffic in April, 2020
• 25-year operations and maintenance phase
[Source: tg.co.nz]