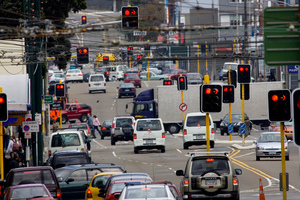 A 20-year-old Wanganui man died after falling 20 metres from an apartment balcony to his death due to being "severely under the influence of alcohol", a coroner has found.
Kenneth David Low had come to Wellington on December 8, 2010 with a friend for a short visit.
He initially had nowhere to stay, but went out drinking that evening anyway, the coroner's findings stated.
However, after meeting with an acquaintance, who at that time resided in an apartment on Wellington's Taranaki St, Mr Low was told he was able to sleep on the bedroom floor of that apartment.
The evidence of Detective Sergeant Dye found Mr Low had spent much of the Saturday before he died drinking at establishments around Wellington.
Mr Low's friends noted he had "glassy eyes" when he visited one of them at work.
When they met Mr Low later at 3.30am, Mr Low was still drinking and was extremely intoxicated.
Mr Low eventually arrived home at 5.42am, where he proceeded to play loud music, raising the ire of the other tenants.
A tenant at the apartment saw Mr Low astride the a balcony rail in the apartment directly below her at around 8am.
She left the window briefly to talk with a flatmate about the loud music which was when she heard another loud noise.
She looked again out the window and noticed Mr Low had fallen from the balcony and was lying on the road below the apartment.
Emergency services attended, but Mr Low had died from injuries sustained from the fall.
The subsequent post-mortem report determined the cause of death to be from non-survivable blunt force injuries to the head, chest and abdomen.
Toxicology testing revealed a blood alcohol level of 237 milligrams of alcohol per 100 millilitres of blood.
Coroner Ian Smith said there were issues surrounding the amount of alcohol consumed by Mr Low during his short stay in Wellington, the availability to alcohol in Wellington at all times of the night and finally consideration of the apartment environment in Wellington central.
"I am very concerned at not only the large number of alcohol licences and outlets that are available within the Wellington CBD, but also the hours that are open to the public."
However due to the Sale and Supply of Alcohol Act 2012, there was no need for further recommendations to be made, he said.
"But I do think it is necessary to curtail the sale of liquor from at least 3am in the mornings as a means to arrest what is an ever increasing problem with alcohol intoxication and all the side effects that spin out from that."
Coroner Smith said he acknowledged Mr Low was severely under the influence of alcohol, "which was the main contributor to his fatal plunge".