Justin Newcombe transforms a Freemans Bay courtyard - starting with a place for edible things to grow and flourish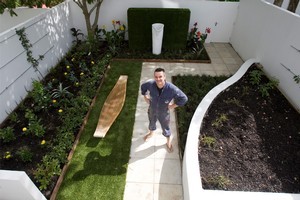 The busy lives of others are always intriguing and are often reflected where they live. For the design of this central city garden, I had to consider that the owners lived on an island in the Hauraki Gulf for much of the time and were only at their city address while at work. "Edible" was a theme that kept recurring during our design discussions and their existing plants reflected this - lots of vegetables, a nectarine and bumper
crop of rhubarb.
The new design includes lots of space for fresh veges including some exciting new edible additions. A new block and plaster planter box makes a striking bit of garden architecture and with some innovative use of espalier (trees tied to the wall), and edible hedges we've increased the area that could provide a tasty return.
In this garden though, strong lines and bold elements would rule. For something this small I like things to be clear and punctuated but the trick is not to get too austere, lest the space feel more like an intellectual exercise than a garden.
The same can be said for other isolated areas on a bigger property such as a pool, patio or entrance way.
For these owners, maintenance is an issue. The last thing they want is to come home , ready for work on Monday morning and have to face an overgrown garden and, heaven forbid, a lawn to mow. So the new garden is set up around the planter box which will be used for veg. I've increased the number of fruit trees. These will require less work than a garden while still being just as productive, and can be under-planted.
The lawn areas were removed and I used artificial Tiger Turf as a replacement (although you would never know it's fake to look at it).
I also used Tiger Turf in a vertical way in the form of a screen. This is primarily to give a background for a pot but it also creates a sense of continuity so the garden is not separated from the little living area in the middle of the site. The Tiger Turf on the ground provides a horizontal background for a seat, further enhancing the continuity in the garden.
The seat is a tidy bit of arty crumpet, based on many I have read about in design books and magazines, plus it's really comfy.
I've nearly forgotten the whole reason for building the garden in the first place - the path. This all started out as a path project. How do we get from the courtyard door to the deck without getting muddy? It's peculiar how the most practical of beginnings can be cultivated into something more imaginative. Over the next few weeks I'll show you how we got from that first basic requirement, to what you see here.
Project 1
Block and plaster raised bed
Hard surfaces are quite defining, like lines in a drawing, and masonry in particular can contribute a great deal to the shape of the garden. Block laying and plastering are both skilled trades but on this scale are achievable for your avid DIYer.
A word of caution though - if you have other blockwork nearby or the finish will be examined by all and sundry, then you may want to get a professional in to be certain of a top finish. In this garden, surrounded by lots of soft foliage and other eye-catching elements, it's less important. I guess what I'm saying is pick your fights.
Spend lots of time setting up - as with most projects, the end result is a reflection of the preparation.
I used bagged mortar and plaster - if you don't mix mortar every day it's difficult to get your home brew just right, but the ready-bagged stuff is perfect every time.
Because my wall is curved I used half blocks. The corners stick out on full blocks, making plastering difficult.
Avoid a boiling hot day as everything sets a lot faster.
Lastly, plaster and mortar get tired and are less pliable and sticky. You are better to knock up a fresh batch than waste your time, pardon the pun, banging your head against a block wall.
Step 1
Build a back wall from timber. This is easier and cheaper and is visually unimportant.
Step 2
Dig a footing around 200mm deep. Set string lines where the bottom of the blocks will be, and for the height of the wall.
Step 3
Most blockies pour a footing and let it set. It's easier on a small project to pour the footing and place the first course of blocks straight on. Your footing still needs steel reinforcing, and remember to work to the height of the string line. Use a level to check each block as you place it. Once the first course is installed, place upright lengths of steel into the wet concrete.
Step 4
Use a level to check each block. It's important to be exact. Once in place fill them with concrete.
Step 5
Apply a splash coat on the wall. This is just a wet mortar that will help the plaster stick to the wall. I also edged the top corner of the blocks. This helped get a sharp corner in the final finish.
Step 6
Let it all dry for a few days then waterproof the inside of the blocks.
Step 7
Mix your bagged plaster thoroughly. If you are barrow mixing, keep going for at least 10 minutes.
Step 8
Apply the plaster with a trowel in smears about a centimetre thick. Don't try to finish it straight away.
Step 9
Do the same with the top of the wall and slope it slightly back into the garden so that the water runs off. If the plaster slumps then it's too thick.
Step 10
Go back over the plaster with a trowel once it has set a bit. Once you have a reasonable finish move on.
Step 11
Allow it to dry, then paint.
Part 1 of 4