There have been hiccups, but David Leggat is confident the British capital will get its Games face on.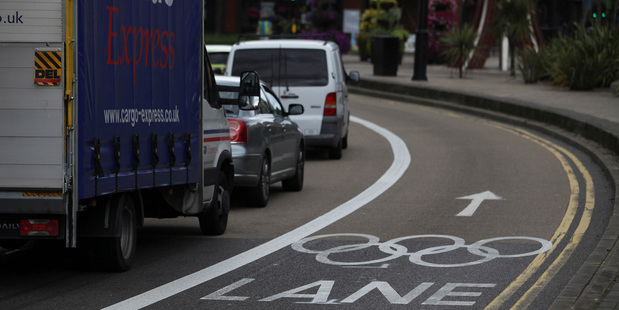 Every four years it's the same.
It won't be ready; the gloom merchants are again out in force, predicting a giant pratfall bearing down on hapless organisers.
And yet, somehow, through it, all the Olympic Games work.
Take Athens eight years ago. The day before the opening ceremony, there was frantic activity, but it got done. It might not have been perfect but it got by.
Or Beijing, where fears of repressive security, plus stultifying smog made for an uneasy lead-in.
The upside of Beijing was the most efficient running of a Games it is possible to imagine.
So it should be no surprise that there are serious concerns over London's capacity to do the job well.
The weather in the lead-up had been lousy. An English summer can be is something of a misnomer anyway.
But the last few days have produced beautiful summer weather.
Then there's security concerns, with a serious shortfall in the numbers, only revealed a few days before the opening ceremony.
So army and police were called in to fill the gaps. Some security guards have been found asleep on the job. Nine of the 12 police forces were drafted in to help security, from as far afield as Strathclyde in Scotland and Dorset on the south coast.
And what of transport? London is notoriously difficult to get about by road. Underground is best, so expect delays and allow extra time to make the journey. It's not that hard.
Throw in problems with water in the athletes' village and it's not been a smooth preparation. But then again, it rarely is.
It is seven years since London was handed the keys for the 30th Olympiad of the modern era - which began over 100 years ago, so perhaps that's a slightly outmoded term - from under Paris' nose, 54 votes to 50. Put a large part of that down to organising committee head Lord Sebastian Coe, who provided the impetus for London's late rails run to mow down the French.
And it also proved once more how even the most hard-nosed, or high powered, can become weak at the knees when being wooed by someone possessing star wattage.
This is London's third Olympics, after 1908 and the so-called austerity Games of 1948, a no-frills operation post- World War II.
So will London make it to the start on time? Of course they will, although the opening ceremony early tomorrow has been trimmed due to fears of stranding spectators in the early hours.
For London, it is all about carpe diem; seizing the day and showing the world their true colours.
Sir Steve Redgrave, five-time Olympic champion rower, reckons the hosts will bag 50 medals. It's always best to take a cautious approach to this, most tantalising pre-competition question.
USA Today rated New Zealand a 15-medal nation. That would make London New Zealand's most successful Olympics. The previous best is the 13 won at Seoul in 1988. The 11 at Los Angeles four years earlier, and 10 at Barcelona in 1992 are the only other occasions New Zealand has reached double figures.
There will be 302 victory ceremonies in London; 906 medals to be handed out.
The New Zealand Olympic Committee is targeting 10 of them, as a minimum. That would get New Zealand to its century, including slalom skier Annelise Coberger at the 1992 Winter Games.
New Zealanders will compete in 16 disciplines. In some they have no chance. In others they clearly do, and in rowing, if things went really well, there could be a small swag of gongs.
And what about a star of the Games?
Will there be a name people remember, a la Jesse Owens from 1936, Fanny Blankers-Koen in 1948, Mark Spitz in 1972, Nadia Comaneci in 1976, or Michael Phelps and Usain Bolt from Beijing?
Phelps and Bolt are back, but this time have serious heat coming from rivals from their own land. Ryan Lochte will joust with Phelps in the 200m and 400m individual medleys; Jamaica's Yohan Blake has beaten Bolt over both 100m and 200m in recent weeks.
The absolute precision of Beijing could not be faulted. But London's face will be more expressive. These Games should be fun.