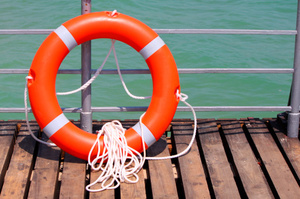 DROWN NO MORE: InTehran RTS Labs is developing a ship-based quadcopter designed to rescue people at risk of drowning. It's operated from a central control cabin, but activates when people shout for help. It locates those in need of rescue with an infrared camera and releases life preservers directly over them. The robot's designed to help rescue those at risk of drowning near the coastline, but could also be used for monitoring, imaging and firefighting. Imagine one of these at every surf lifesaving station.
GUTSY GRIZZLE: The Grizzly RUV is an all-terrain robot from Clearpath Robotics. It can cruise for up to 12 hours at up to 19 Kph, with a maximum payload of 600 Kg. The front axle articulation means it can drive over 6 inch obstacles yet still keep all its wheels on the ground. The utility vehicle can pull heavy equipment, carry sensors or payloads, and supports the open source Robot Operating System.
Now, that would be handy, and fun.
BREATHE EASY: People waiting for a lung transplant may have to spend a long time in hospital hooked up to equipment that deprives them of mobility. Researchers from the University of Pittsburgh are developing an artificial lung and blood pump small and light enough to wear for up to 3 months before surgery.
OIL SUCKER: A research team from Zhejiang University in China has created an aerogel with a density lower than that of helium. The ultra-light aerogel is the world's lightest material at 0.16 mg per cubic centimeter and is formed by freeze drying. The aerogel can absorb up to 900 times its own weight in oil and could be useful for cleaning up oil spills at sea, as it doesn't absorb water. Then the gel could be squeezed to recover the oil as it will bounce back after being compressed. It should be cheap to transport too, seeing as it weighs so little.
NO MORE RICE: Dropped your phone in the river? With Dry Box it may be possible to rescue it. The system is a specialised oven: take the battery out of the phone and place the phone in the Dry Box for around half an hour to vaporise the water. The Dry Box service is available in certain malls in Texas. That beats burying it in a bag of rice to draw out the moisture. Dry Box. Video:
Miraz Jordan, knowit.co.nz