The snow was the winner and four Tasman Tanning Premier teams had official draws added to their final season tallies as only two games in the final round robin weekend were possible.
Mathmatically, the semifinal picture could have possibly changed shape on Saturday with third-placed McCarthy's Transport Ruapehu and the hard-charging Black Bull Liquor Pirates seperated by one competition point.
But the decision to call off their games with Settler's Honey Ngamatapouri and Utiku Old Boys, in Ohakune and Taihape respectively, saw all four teams pick up two competition points for the current Top 4 lineup to remain intact.
Down at the Ratana Pa, there was nothing but pride on the line as Harvey Round Motors Ratana climbed from the ashes of their 125-point destruction against Pirates to come as close as they have all season to a victory against Wanganui Car Centre Kaierau, who came back to win 31-27.
Scoring five tries, a first for 2017, Ratana were leading 22-14 at halftime, with hooker Keanu Puki-Kaa getting a double in the match.
But Kaierau completed a good return to respectibility since their heavy defeat to Pirates three weeks ago, running down the deficit with three second half tries to one.
Frontrowers Jack Yarrall and Dominic Broadhead scored, as did cast-iron veteran Ace Malo.
Kaierau's win, with Utiku staying eighth place, meant the Premier Consolation playoffs were confirmed as well on Saturday.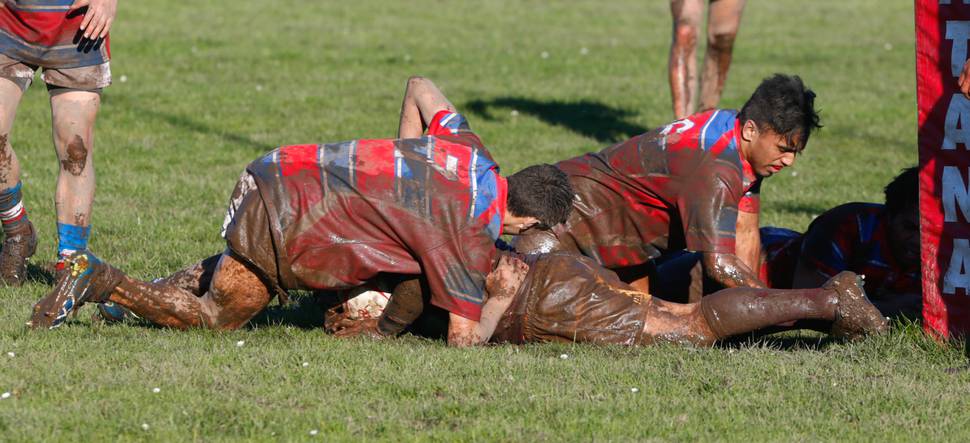 Last year's championship finalists PGG Wrightson/Balance Taihape now have to settle for being top qualifier from the best of the rest, with Ngamatapouri getting the other home game.
Ratana's season ends, provided all four current Consolation teams want to play this weekend, as withdrawals have been common place in previous years.
Kaierau are the Consolation title holders, winning it last year during their 125th season.
The Senior Championship quarterfinals saw a real upset at Spriggens Park as Taihape rose to the occassion to beat Black Bull Liquor Pirates 40-29 after an extra time thriller.
It was a big turnaround for the visitors, who lost 44-24 to Pirates back in June.
They led 14-0 at halftime, although the home side came back with the scores levelled 26-26 at the end of regulation.
Pirates would kick a three-pointer in the next 20 minute period, but Taihape scored two tries for the right to reach the semifinals with Marton this weekend.
In the other playoff, there was less surprise as Kelso Hunterville kept alive their hopes of going back to the Cooks Gardens finals day after missing out last year - beating Counties 37-10 in a match moved down to the Bulls Domain.
Hunterville will now go on the road to face Marist Celtic at Spriggens Park, with the Marist club having both Premier and Senior semifinalists in their 100th season.
At Dallison Park, the Senior Consolation final saw Ruapehu retain the Wilson Cup they won last year, but this time they did it the hard way by upsetting the favourites Border at home 22-14.
Border had narrowly beaten Ruapehu in both the first round of Senior competition (38-34) and in the Consolation group (17-14), and it appeared the status quo would remain as they lead 14-12 at halftime.
But the visitors scored ten unanswered points in the second half to bring the first end-of-season trophy home to Ohakune.
Results, July 15
Tasman Tanning Premier Championship, Week 18
Grand Hotel Challenge Shield - Waverley Harvesting Border 20 (Hamish Mellow try; Nick Harding 5 pen) bt Dave Hoskin Carriers Marist 12 (Cameron Crowley, Steelie Koro tries; Mitchell Millar con). HT: 14-12.
Wanganui Car Centre Kaierau 31 (Matt Ashworth, Ace Malo, Charlie Gird, Jack Yarrall, Dominic Broadhead tries; Ethan Robinson 3 con) bt Harvey Round Motors Ratana 27 (Keanu Puki-Kaa 2, Charlie Mete, Onewa Tai, Te Oranga Whareaitu tries; Paora Heremia con). HT: 22-14 Ratana.
Not played (weather conditions): McCarthy Transport Ruapehu vs Settlers Honey Ngamatapouri at Ohakune; Utiku OB vs Black Bull Liquor Pirates at Taihape. Teams awarded two points each.
Bye: PGG Wrightson/Balance Taihape.
Premier Championship Semi-finals Draw
Border vs Pirates, Waverley; Marist vs Ruapehu, Spriggens Park.
Premier Consolation Semi-finals Draw
Taihape vs Utiku OB, Taihape; Ngamatapouri vs Kaierau, Ngamatapouri.
Senior Championship, Quarter-finals
Kelso Hunterville bt Counties 37-10. HT: 17-5.
Taihape bt Black Bull Liquor Pirates 40-29 after extra time. HT: 14-0 Taihape. FT: 26-26.
Byes: Speirs Food Marton and Celtic.
Semi-finals Draw: Marton vs Taihape, Marton Park; Celtic vs Hunterville, Spriggens Park.
Senior Consolation, Final
Ruapehu bt Border 22-14. HT: 14-12 Border.