It may not seem such a good idea after a few drinks the night before or some strenuous competition in the morning, but 26 brave souls still lined up at the foot of the Durie Hill lookout to tackle Whanganui's unique NZMG event yesterday.
The infamous Stair Race is unique to the river city compared to its Dunedin hosting counterpart - a 355 step climb on a 100m vertical walkway, where the thighs and lungs scream on the way up and the calves and heart-strings tear on the way back down.
There had been 33 entries originally, surpassing the 30 of 2015, but organisers said after a long Sunday night at War Memorial Hall, a few had withdrawn themselves for the 5pm dash.
Star Race rules are that one foot must touch each step, and the competitor must give their name clearly to the marshall at the top of the climb before they can descend.
Some hardy souls like Gisborne's Peter Lamont and local Bruce Baldwin were still keen, despite having been flat out in the morning winning medals in the kayaking on Lake Wiritoa.
John Pereniho showed how treacherous the downward scramble can be on rubber legs as he slipped, re-gathered, but then fell on another step before gritting out the final two levels.
Top veteran rower Pat Carroll, despite having been in his boat that morning, was able to make sure of his footing for a rapid descent.
"I wondered, 'when's this [strain] going to kick in?'.
"I was born in a house with stairs.
"I beat this guy - that's the main aim," he said of town mate and 2013 winner Kerry Bennett, who was following rapidly behind him.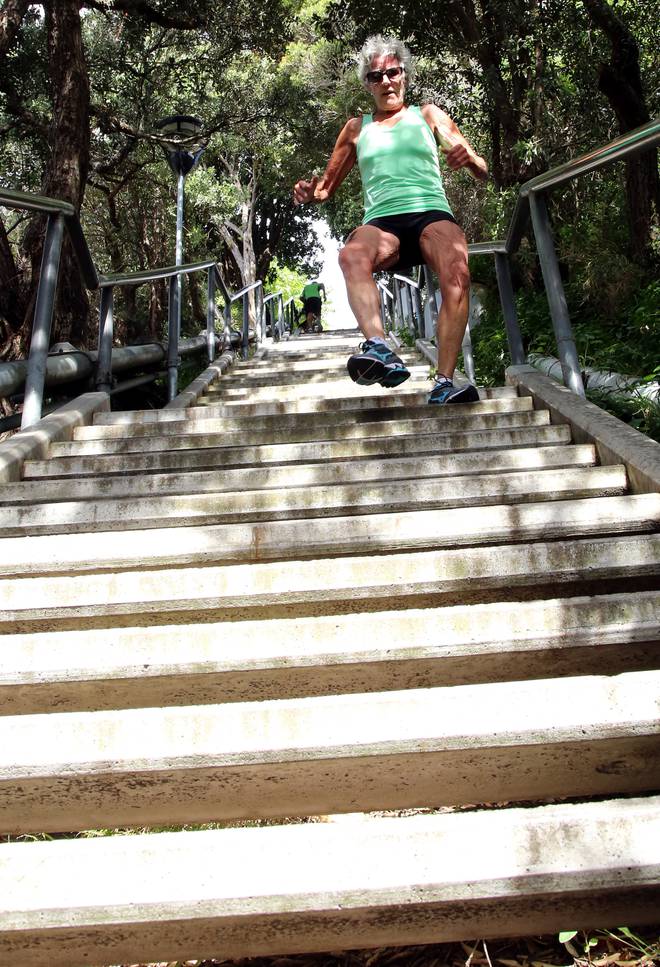 However, with 30 second interval starts, Carroll's 7m 43s time was not enough to beat the swift but precise Bennett, and neither was Lower Hutt's Mark Arthur (7m 31s).
With a 6m 52s time, Bennett cruised to another overall victory and gold medal for his age group.
"Very, very hard, push yourself to the limit," Bennett said of the native Whanganui challenge.
"I got up this morning not thinking about it, [saying] 'I'm going to marshall a bike race'.
"It's something to look forward to, but there's so much to dread.
"At the end of the day it's all good fun."
However local Neil Mayo's extraordinary games record of 5m 42s was safe for another two years, with Mayo not entering this year after winning again in 2015 with a 6m 23s effort.