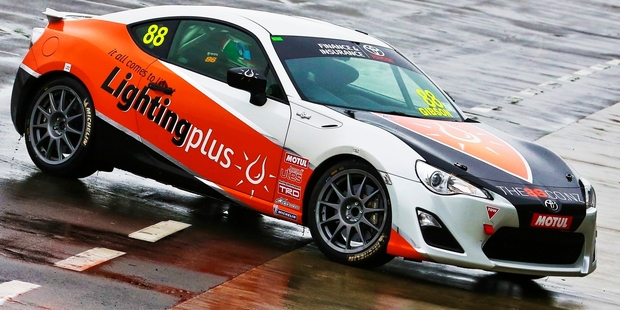 Wanganui expat driver Matt Gibson sits in fourth place after a contentious opening round of the new Toyota Finance TR 86 championship at Highlands Motorsport Park on the weekend.
Gibson had an excellent round in the supporting event to the Australian GT Series, coming third in Race 1 and second in what proved a reverse grid Race 2 when the starting line-up was chosen by marble draw.
However, in the 12-lap Race 3 on Sunday morning, former single-seater Toyota Series driver Jamie McNee would pass him off the safety car restart after Bill Williams crashed in turn one. Gibson said a control tower error meant the yellow lights were still on and no other cars in the field tried to pass, and McNee's surprise move meant he dropped back from fourth to fifth and could not regain the position.
V8 Supertourer driver Angus Fogg had a dominant weekend after some blistering laps in qualifying and got two race wins to lead the series, followed by McNee in second and Tom Alexander third, with Gibson's Lightingplus racing team 11 points back in fourth.
The placings were finalised and cleared late on Monday.
"I am really disappointed as I could have made a pass on Callum Quin, who was in third, if I passed also," said Gibson.
"I had a really good run and would have made my way up to third but I obeyed the rules and didn't pass ... I am really disappointed I couldn't put the car on the podium due to a error made by the officials by leaving the yellow lights on."
After Williams' crash, the yellow flag stayed out for four laps while the damage was repaired, as his car dug into a gravel trap and lost its front bumper, dislodging a safety stack of tyres. The field bunched up behind leader Fogg, but when the racing resumed he pushed back out to a half-second lead almost immediately.
"We had some really close racing out there, the young guys behind me never let me rest so I was watching my mirrors for the whole race, but I knew if I controlled the restart after the yellow that I could stay out in front," Fogg said.
In other results, Quin set two fastest laps during racing, including the lap record for the new TR86 category of 1:52.191 on the 4.1km circuit.
Going back to Saturday, Gibson had pole for much of the qualifying for the 10-car field until Fogg, a multiple-time touring car champion, set the mark. In Race 1, Gibson was third going into the first "bus stop chicane" and stayed there for the duration despite trying to have a go at Alexander in second, with Fogg taking the checkered.
For Race 2 on Saturday afternoon, Gibson started fifth on the grid but fought his way up to third and then took second after Tony Houston spun going into the forest hair-pin. That meant a red flag to close the field up and Gibson would have to fight to get second back but then he could not close McNee's six second lead, while Fogg had his own problems on a charge up to fifth when he brushed a concrete wall and had to nurse the car home.
"Matt drove an exceptional race ... We are all ready as a team for a podium finish for the year," said dad Colin Gibson, Lightingplus team manager.
The next round of the championship is at Pukekohe from November 29 to December 1.
Points: Angus Fogg 195, Jamie McNee 191, Tom Alexander 187, Matt Gibson 176, Callum Quin 162, Matthew Williams 120, Ash Blewett 94, Tony Houston 84, Bill Williams 36, Chris Lewis 0.