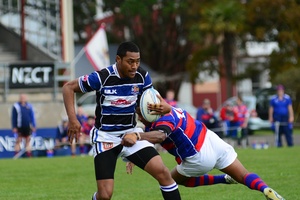 The established order of the Pink Batts Heartland competition has been turned upside down and Steelform Wanganui is no exception after an unprecedented second defeat from their opening two matches.
The story out of Saturday's impossibly tight game down at Westport was that a momentary lapse just after halftime led to the Buller try, which sank the visitors' lead and the home team all but closed down the game from there, winning an arm wrestle 15-11.
Worse, Wanganui's already depleted resources have taken a further battering with first-five Tom Wells coming off in the first half with a quad injury, prop Shaun McDonough left with an inflamed back, and captain Peter Rowe also came to the sidelines just before Buller struck for the second try after the resumption of play.
"That pretty much rocked the boat," said coach Karl Hoskin.
"Once we got taken out of our key players, like Tom, Shaun and Peter, we just put ourselves under pressure we didn't need to be under.
"We just got found short on the day."
Wanganui led 8-7 at halftime after they pounced on Buller fumbling a kickoff flanker Doug Horrocks snatching it and racing 40m before being caught, but feeding speedster wing Aaron Vadiga for the try.
The loss of Wells brought on Areta Lama, while Zyon Hekenui also ran on to handle the goal-kicking duties.
Hoskin praised the 18-year-old Hekenui, who in his Heartland debut landed both his penalty attempts and broke the line a couple of times.
Taking a one-point lead into the break, it all went wrong after the turnaround as a Wanganui clearance was charged down, then they lost their lineout throw and Buller barged over.
Taking over the kicking from first-five Matt Golding, Buller halfback Andrew Stephens added a penalty for a 15-8 advantage.
Hekenui kicked his second penalty to close the gap with 10 minutes left, but Wanganui couldn't break through again as play stayed between the 22m lines.
Buller's tryscorers were lock Isei Lewaquai and fullback William Sakuru.
Hoskin said Wanganui's set piece was an improvement on the previous week against King Country, as Wanganui took two tightheads in the scrum.
Wanganui also got better service from both the No 4 and No 6 jumpers in the lineout, with debuting lock Sonny Woodmass holding up his end.
"The lineout was a whole lot better the one they took off us was the key error. I don't remember any other one," said Rowe.
"Just that little lack of concentration let them in.
"Losing two on the trot, it's not what us in Wanganui have been used to and it's not through a lack of endeavour.
"The competition [other] unions have definitely stepped up and it's close. We've played two games and scored two tries."
Weekend results back up that assessment as the perennial strong teams have struggled out of the gate in 2013.
After their upset of Wanganui at Cooks Gardens the previous weekend, King Country claimed their second 2012 Meads Cup finalist scalp by defeating champions East Coast 24-13.
Traditional powerhouse North Otago are winless after they were beaten 21-15 by South Canterbury, who Wanganui must face at Cooks Gardens this Saturday.
Mid Canterbury and Wairarapa Bush have been the only teams to earn a four-try bonus point and with two wins each they sit top of the table.
"Everyone's struggling and it's a bit of a lottery show," said Hoskin.
"We're not out of it yet but we've sure made it hard work for ourselves."
The three hurt players are being assessed today, joining the likes of Andrew Evans and Bradley Graham on the injured reserve, with Hoskin already having to dip into the wider squad earlier than anticipated.
Buller: 15 (Isei Lewaquai, William Sakuru tries; Andrew Stephens pen, Matt Golding con) beat Steelform Wanganui: 11 (Aaron Vadiga try; Zyon Hekenui 2pen). HT: Wanganui 8-7.