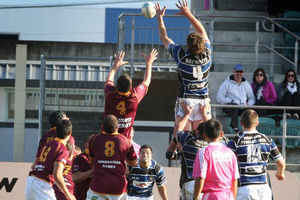 A team under siege has brought a soldier back into their ranks while the message has gone out that everybody better smarten up if they want to stay in the frontline.
Three changes have been made to the Steelform Wanganui forward pack that was over-run by King Country at Cooks Gardens last Saturday, as the team departs today for a seven-hour trip to Westport to face a Buller outfit who are also desperate to stabilise their Pink Batts Heartland campaign.
While Wanganui's set pieces were badly exposed in their 17-16 shock loss, Buller minus seven players who won the 2012 Lochore Cup surrendered their prized Rundle Cup to neighbours West Coast for the first time since 2009, beaten 23-17 in Greymouth.
While tomorrow takes on major ramifications for both teams when it comes to home semifinal equations, Wanganui coach Karl Hoskin's main demand is his squad lift back up to their own personal standards.
Everyone got the hard word on Tuesday night that if there is not substantial improvement within the next fortnight of games, heads will roll.
"I'm not so worried about the desperation, it's about setting a benchmark," said Hoskin.
"If you can't take [pressure], get out.
"They put their hand up to hone their ability to make the Wanganui Heartland side and, now they're here, putting their hand up is not enough."
To that end, wider squad member and NZ Army lock Sonny Woodmass has been promoted from the development team for his Heartland debut, with Sam Madams dropping back to the bench.
"[Woodmass] played with us and against us, so we had our cake and ate it too because we got to watch him. I'm confident he can go a good job," said Hoskin of the 28-year-old 2-metre tall former Linton player.
Lasa Ulukuta swaps with Jason Hughes at No8, in part because of Hughes' calf strain against King Country but also because Ulukuta will be charged with marshalling the pack around.
It is hoped these changes can help address the problems at lineout and scrum time.
"It was just little things but there was no need for those little things to even come up. We've worked really hard on putting emphasis back on standards and getting our standards back to where they should be," said Hoskin.
Import Doug Horrocks also moves from the bench to blindside flanker, with Andrew Evans being rested with a sprained ankle.
Adding to the loose forward injury woes is Bradley Graham being stood down for three Saturdays after being knocked out in last weekend's development game.
Hoskin said it was the second KO for Graham this year, so he is being brought back slowly with no training this week, followed by light duties before resuming full contact in just over a fortnight.
"The goal is to have him back halfway through the Heartland season."
The long haul to get to Westport today could end up being the largest of the whole campaign.
Departing Wanganui at 9.30am for their Palmerston North plane, the team will fly all the way down to Hokitika so the departing West Coast team can catch the same flight then bus two hours back up the coast to Westport, where they hope to get a light run on the Victoria Square ground around 4pm.
The squad contains only four survivors Ulukuta, captain Peter Rowe, prop Shaun McDonough and lock Nick Cranston from the last Wanganui team who played in Westport, winning 39-12 in 2009.
No doubt remembering that day will be two of the longest serving forwards in provincial representative rugby Buller prop Phil Beveridge and flanker Luke Brownlee have 268 caps between them. The loan players are Tasman's Reyne Vovavola and Mike Schmidt-Lealava'a, along with Canterbury prop Scott McIlroy.
Thames Valley referee John Durstow will have the whistle for the 2.30pm kickoff.
Wanganui to play Buller: Asalemo Malo, Aaron Vadiga, Jason Temara, Robert Hughes, Pehira Huwyler, Tom Wells, Lindsay Horrocks, Lasa Ulukuta, Peter Rowe (c), Sonny Woodmass, Nick Cranston, Doug Horrocks, Shaun McDonough, Karl Parker, Vaan Rauhina.
Reserves Backs: Josh Edwards, Areta Lama, Zyon Hekenui. Forwards: Roman Tutauha, Kim McNaught, Sam Madams, Jason Hughes.