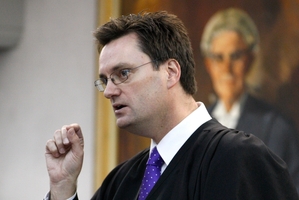 Suicide is always a distressing subject - another life wasted; grieving dear ones; dreams left unfulfilled; the guilt of those left behind.
Apropos my column last Tuesday, you may have gathered that the criminal justice system is a tough, unforgiving business, full of overwhelming ugliness.
The price that crime exacts on its victims and the people working in the system is high. Even accommodating some toe-rag at Her Majesty's pleasure in prison costs the taxpayer about $100,000 per year.
But the job of defence counsel is critical to the system, and our society as a whole. How else can the evidence against an accused person be tested? The police don't always get it right.
Defence counsel is a tough job ... one that few would have the stomach for. So it was with real grief that I heard about suicide of one of the country's most promising young defence lawyers, Greg King.
A thoroughly nice man. A clever man. A fair man. On a Saturday morning Greg was found lying dead in the grass beside his Mercedes in Dungarvin Rd, Newlands, - a bleak, windswept cul-de-sac about two hundred metres above the Hutt motorway.
The report of coroner Garry Evans is now out and tries to explain what Greg himself said was: "The unexplainable."
To take from the coroner's report: "In Greg's suicide note he said that he was: 'Exhausted, unwell, disillusioned, depressed and haunted.' He said he was haunted by the dead from his numerous homicide cases and '... hates [himself] for what [he] has done'."
Greg said that the manslaughter trial in which he was engaged during the week before he took his life "involved yet another terrible, unnecessary death and a lifestyle and community most New Zealanders would have no idea existed".
He had also successfully defended Ewen McDonald in the Scott Guy murder case in Feilding, and had been involved in many other, mainly homicide, cases. Greg said he had had enough of being exposed to this kind of death and immersed in such terrible things on a daily basis. He saw the appalling gaps we have in our society getting worse.
Greg said "his heart and soul were always to be a defence lawyer", but that after nearly 20 years he was "completely over it - totally burnt out".
His experiences with criminals had dulled his human senses and that victims of serious crime had affected him profoundly. He said he had been genuinely torn between doing his job and his conscience, which kept asking him: "Is this really what you want to be doing?"
The abuse he had received as a defence lawyer from certain members of the public had been "disheartening and depressing". He had hated the attention he had received and would have loved again to be anonymous.
As a final kick in the guts for Greg King, he had been approached by an investigative reporter researching a case where a disgruntled client serving preventive detention felt he had not been represented adequately and that there were some "irregularities" in Greg's legal aid bill. These were found to be unsubstantiated, but happening the day before his suicide, who knows what effect the looming media circus had on Greg's state of mind?
Greg, mate - the message has been screamed at you for years. It is only human to get depressed. Why were you too proud to talk to someone? To take the pills?
Chris Northover is a Wanganui lawyer who has worked in the fields of aviation, tourism, health and the environment - as well as designing electric cars and importing photo-voltaic panels.