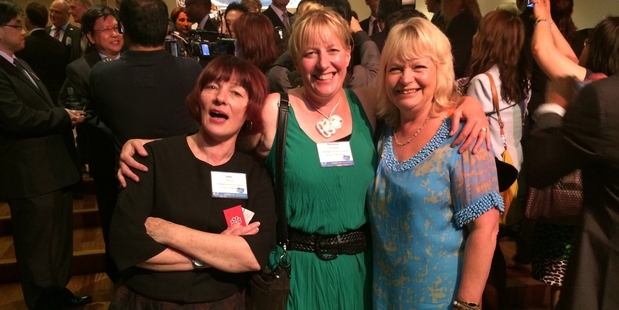 Mayor Annette Main addressed an international audience in New York last month, giving them the lowdown on the Wanganui digital experience.
Ms Main was attending the Intelligent Community Forum summit and her topic was rural broadband.
The ICF is a think-tank organisation that studies the economic and social development of digital opportunities such as broadband. Each year it selects a number of Smart Cities and Wanganui made the list for the second time earlier this year.
"I spoke about rural broadband at a Master Class session at the summit and was able to talk about the successful partnerships that led to connectivity for the sector here," Ms Main said.
She funded the trip herself. "I didn't want to get into dispute over the cost," Ms Main said. "And because we are an ICF member, the cost of accommodation and meals were covered."
She was accompanied by Marianne Archibald, Wanganui digital community facilitator, and Sally Patrick, council community and culture officer, who also paid their own way.
"New York wasn't on the top of my places to visit, but I loved the hustle, the loudness ... and most of all the service," the mayor said.
"We could learn a few things from the young people I came into contact with, especially their courteousness. Would I go back? Yes, if there was a specific reason."
An intelligent community or Smart City is one that endeavours to create prosperity, stability and cultural meaning in a world where jobs, investment and knowledge increasingly depend on advances in communications.
"The challenge for us is to make it inclusive," said Mrs Main.
"Even if someone doesn't want, or feel the need, to be connected, it's important that they know they can access the council website if they want to."
Wanganui is the only New Zealand participant in the Forum and will host a presentation from ICF co-founder Robert Bell tomorrow.
Mr Bell's visit has been made possible by sponsorship from Ultrafast Fibre, Chorus, Inspire, 2020 Communications Trust, Alcatel and NGconnect.
Ms Archibald said it would be a good opportunity for people to learn about ICF and what Smart Cities are all about.
"A lot of people from outside the region will be attending. It has generated a lot of interest and will be very worthwhile for local people to attend."
Mr Bell will speak at the Concert Chamber, War Memorial Centre at 5.30pm until 7.30pm tomorrow, and there will be an opportunity for questions and networking.
There are limited places so anyone wishing to attend should contact suzanne.carrick@wanganui.govt.nz or phone 06 3493119.