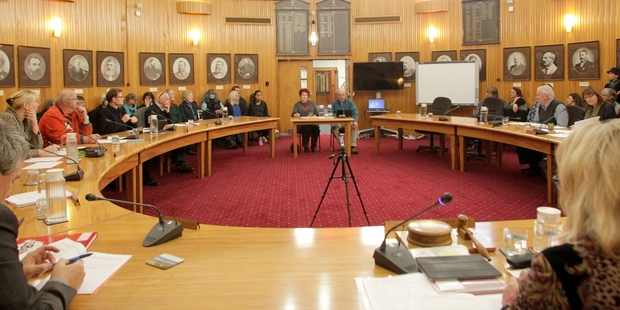 A victory for the "little people" was recorded yesterday with the Wanganui District Council voting in a series of resolutions highlighting concerns around the Trans-Pacific Partnership Agreement (TPPA).
The resolutions had been brought to council by way of a petition last month but a lack of a quorum saw it lapse.
But it was back in front of the council's audit, risk and finance committee and received majority support from the councillors, five votes to three. The 20 petition supporters at the meeting applauded the decision.
Councillors Jenny Duncan, Hamish McDouall, Rangi Wills, Charlie Anderson and Martin Visser supported the motion with Councillors Helen Craig, Rob Vinsen and Ray Stevens against.
Apologies had been received from councillors Sue Westwood, Philippa Baker-Hogan and Jack Bullock.
However, the vote was unanimous on another motion, which said council will view the treaty text when it is released and decide then whether or not to make a submission to Parliament's select committee.
Mr Vinsen tabled a motion which abbreviated the 12-point resolution, asking council write to the Prime Minister to ensure the TPPA was properly scrutinised in Parliament before it was signed. But that was defeated, with only himself and Mr Stevens supporting it.
Mr Vinsen said the petitioners were not necessarily against free trade or the TPPA but rather some of the clauses that could be part of it.
"They're just asking for fairness," he said.
Mrs Craig said it was arguable that the TPPA would have a "massive impact", as earlier claimed, on the Wanganui community.
"Does this council have to listen to every concern someone raises?"
Mr Stevens said he had not changed his view that this was not the council's role. "This is an issue that should go to the local MP or Local Government NZ but not here."
Moving the 12-point resolution, Mr McDouall said he was not against free trade but was worried about some potential aspects of the arrangement.
"There has been a clear link made between these 12 resolutions and how they could affect local government. We should be proactive and not reactive."
Mr Vinsen said it was a matter for central, not local, government.
"We've been subjected to some scary claims but they are unsubstantiated, relying on leaks and innuendo. I want to make my decision on correct information, and that's why I'll vote against them," he said.
But Mrs Duncan said any councillor who challenged anyone's right to be heard "challenges the very core of democracy".
Ms Main told the meeting that under her watch the council door would remain open to anyone who wanted to raise a concern.
"I'm saying that I accept our community has the right to be raising an issue in front of us. What council decides to do about it is up to the council, but as long as I'm here as mayor they will see that door open."
Denise Lockett, involved in organising the petition, said council's decision showed the petitioners "had made progress".
"What else could we ask for? It's not so much being opposed to free trade as our concerns with what could be included in the treaty agreement and the impact it could potentially have on the country and our community," she said.
The recommendation now goes to the full council for ratification.