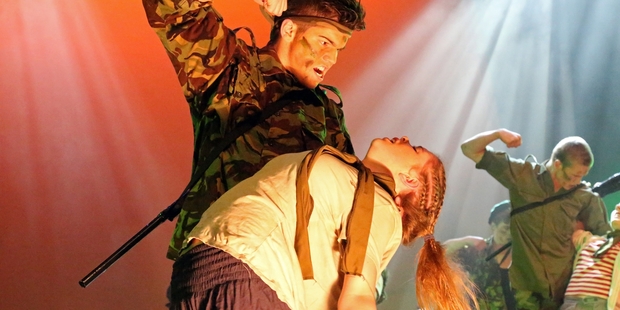 It was a very successful year for Wanganui schools at the regional Stage Challenge competition.
Wanganui High School won the competition with its piece about kidnap victims, called Invisible Children, and Wanganui Girls' College's piece, Trapped, about battery farming of hens, came third.
Horowhenua College came second at the regional final, which was held recently in Palmerston North.
Wanganui High School's powerful work explored every parent's worst nightmare: something terrible happening to their child. When a child goes missing, people seek justice. But what if the child is torn by war or poverty? The piece asks who treasures the child when atrocities like abduction make children invisible.
Stage Challenge manager Sarah-Jane Phillips said the piece was "flawless".
"[It had] exquisite choreography and a deep theme that left the audience thinking - that is exactly what a Stage Challenge performance is meant to do."
Judge Del Costello described it as "stunning, powerful, intense and very effective".
It's the ninth time in the past 12 years that Wanganui High School has won the regional Stage Challenge.
Assistant principal Nola Todd said the whole student community was delighted by the win.
"It's the culmination of a lot of work by a lot of people. The kids really gave 150 per cent on the night."
Ms Todd said Invisible Children brought some of the audience members to tears.
Wanganui High School also won excellence awards for drama, choreography, concept, soundtrack, performance skill, lighting design and costuming.