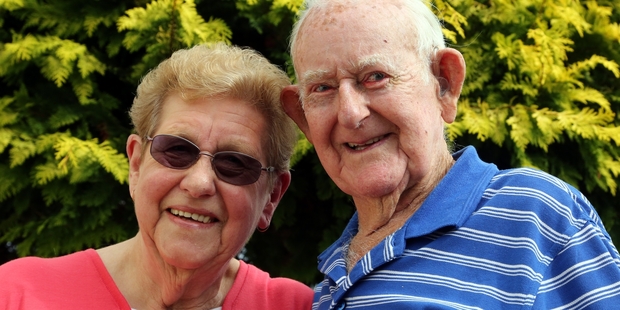 When Jean met Stan Perrett, of the historic Wanganui family, she knew he was a rough diamond.
He was shoeless and unshaven, but this English-born lass nevertheless felt he might put a sparkle on her ring finger.
And more than 60 years on, their marriage is still glittering as they look forward to their diamond anniversary tomorrow. The couple hail from an era when the aftermath of war still lingered; when men still wore uniform, women were courted and chivalry was the norm - relationships formed and endured.
Reflecting on their six decades together, they say they are as happy today as they ever have been.
And as with many relationships formed in those days, it is perhaps their shared experience of war, and the stoicism it instils, that gave them the strength to stay together through thick and thin.
Jean was 6 years old when WWII began, Stan just a year older. They met some 15 or so years later, after Jean spent six-and-a-half weeks crossing the globe from Croydon, England, to New Zealand, sleeping in an eight-berth cabin with seven other women seeking a new life.
London was still being rebuilt, war rationing had barely ended and the military was still a core part of society.
Jean has vivid memories of arriving in her new home town, stepping off the boat after a voyage that lasted longer than many modern relationships, straight into the Auckland dock strike.
"We had to carry our own luggage off the boat - we had to slide one girl's tin trunk down the steep gangplank, while workers on strike jeered at us. It was quite a welcome."
"I met Stan at a party at the house of a friend's brother, while my then boyfriend - a Scot - was away picking hops," Jean told the Chronicle.
When she first laid eyes on Stan's cheeky features, he was apparently smooth-talking her mum.
"But he was rapt as soon as he saw me. He said, 'is this your daughter?'
"He was one of the scruffiest men I'd met - I wasn't impressed, but something charmed me, and when he turned up in uniform to our first date I was enamoured."
While they might be slower on the dance floor than they were in the '50s, the party celebrating their diamond anniversary at their home on Totara St will be just as romantic.
Engaged by 1953, Stan, then 22, married a 21-year-old Jean a year later at St Peter's by the sea in Takapuna.
Stan was serving his first term with the New Zealand Army - which he later left for Jean - before returning for a second term which began in 1963. They lived on army bases, including Papakura, Trentham, Burnham and Fort Cautley, Devonport.
After leaving the army in 1977, Stan became an Auckland bus driver.
"We remember the Auckland Harbour Bridge being built - so much has changed since then; hence the move to Wanganui when we retired."
And it was the obvious place to come, given Stan's heritage - a descendant of historic Wanganui family the Perretts.
The name will be familiar to many in the city, where the famous Perrett building still stands and up on St John's Hill, Perrett Rd - the site of the family's former homestead - still exists.
A plaque commemorating Stan's grandfather, Edwin, still adorns the Royal Wanganui Opera House.
And while the family history is broad, "the celebration will be intimate".
The couple will be joined by their three sons and their partners, their eight grandchildren and three great grandchildren.