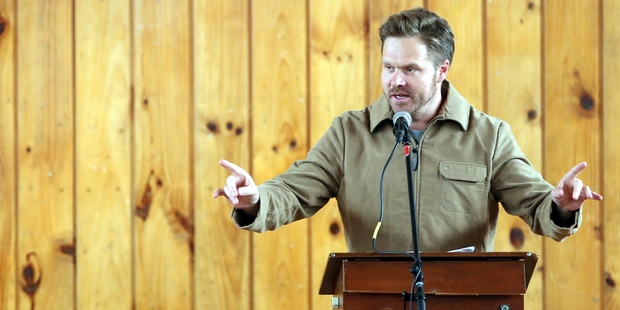 Actor Blair Strang's mother was livid he dropped out of law school.
He later returned to it, and the former Shortland St and Nothing Trivial star is adamant young people should "choose your career and pick something you enjoy that you're passionate about".
And he told 140 Rangitikei secondary students just that yesterday at the Youth Leadership Forum in Marton.
Students from Rangitikei College, Nga Tawa, Turakina Maori Girls and Feilding Agricultural High listened to the "Striving with attitude and greatness" presentations and took part in workshops aimed at boosting their confidence, overcoming fear and learned acting techniques.
Strang, fellow former Shortland St actor Will Hall, Wanganui Girls' College head of physical education and health and NZ Women's Touchblacks member Kristina Sue and extreme athlete Sarah Wilson regaled the students with their stories of what led to success in their chosen professions.
Strang dropped out of law school to join the cast of Shortland St. His mother was furious and wanted to know "what the stupid show was?". And when Strang told her he was to play an ambulance driver, she was dismissive because he "did not know anything about ambulance officers".
Strang stayed with the soap for six years, and during that time he knew something was missing.
In 2000 he returned to law school, and now practises family law in West Auckland.
"Without education, your job options are limited." He spoke from experience; when he left the soap he looked online for a job, but there was nothing he could apply for.
"Once you have found what you want to do, go out and get it."
Hall came from a long line of accountants, and when he was in Year 12, he decided to take drama classes instead of accountancy.
The stumbling block to the plan, Hall's father, was the accountancy teacher. He won over his parents though and took drama, and 17 years later he is still acting.
When Hall finished school, his parents demanded he go to university where he studied for a commerce degree.
But when he graduated, and all his peers were applying for jobs, Hall knew this was not what he wanted to do.
"I had an itch for drama that needed to be scratched," and off he went to Sydney to study acting.
Hall spent two years on Shortland St as skateboarding doctor Kip Denton.