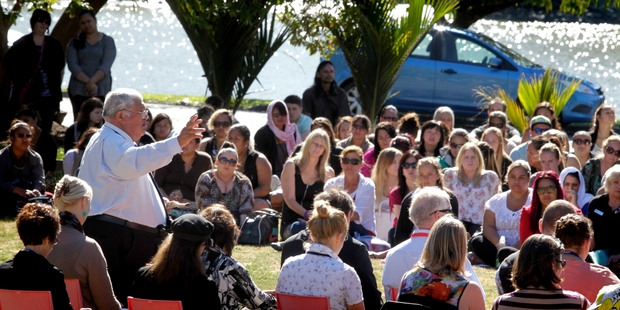 New and returning Whanganui UCOL students were yesterday morning welcomed to their year of study with a powhiri on Pakaitore/Moutoa Gardens.
About 200 students walked from the Matapihi ki Te Ao campus across the road to the gardens, where they were called on by UCOL external relations co-ordinator Katarina Hina.
Kaumatua John Maihi welcomed the students, who will be studying beauty, hairdressing, whakairo art and design, fine arts, computer graphics, fashion, culinary arts, business, music, exercise sport science, health science and nursing.
In his mihi to the students, Wanganui Tertiary Education Collective chair and UCOL associate dean Tim Snape reminded the students that it was "one step in front of the other ... small steps will get you to the end".
UCOL council chairman Trevor Goodwin, Wanganui Mayor Annette Main and district councillor Helen Craig were among the guests to welcome the students.
Judd Bailey, the kaiako of whakairo (carving), said there were 15 students on the course, which was being offered through the Northland Polytechnic certificate. The students will spend two days a week working on their designs at Putiki Marae.