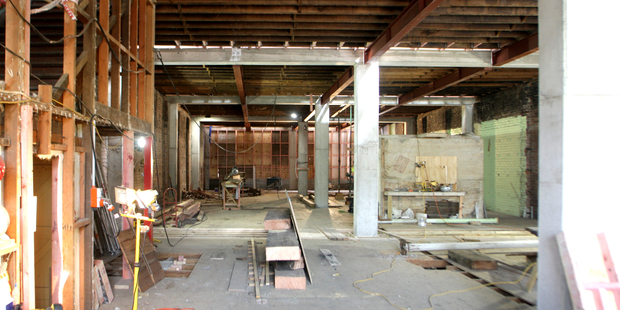 The programme to relocate staff and collection from Wanganui's Sarjeant Gallery to temporary headquarters is expected to speed up.
The Wanganui District Council decided in December 2012 to relocate the gallery, worried about the building's earthquake strength as well as hoping to secure funding to carry out an extension to the building in Queens Park.
Plaster and some concrete has already fallen off the gallery walls, in areas already damaged by water. But with that masonry falling council managers said there was a growing concern for staff and the collection, especially in the wake of a recent "swarm" of earthquakes felt in the city.
The gallery will be shifting into leased premises that cover both 36 Taupo Quay and 17 Drews Ave.
The original plan (Option A) was to close the Sarjeant at the beginning of next month, shifting the leased building and re-opening to the public on May 12.
The collection was going to be shifted to the leased site over the next 21 months.
Pete Gray, deputy community and cultural manager, said that also meant some staff would be working at the Sarjeant through until December 2015 but also meant increased risk to both staff and the collection.
Mr Gray said speeding up the relocation was obviously a means of reducing the risk to staff.
A second option (Option B) speeded the process up by having the gallery's front-of-house and education staff moved to the leased building. It also would accelerate shifting the collection to the ground floor of the leased building.
But under Option B opening the temporary gallery to the public would be for a further nine months.
Mr Gray said latest proposal (Option C) was the same as Option B except the collection moved to temporary storage in part of the Department of Conservation office and from there it could be moved to the second floor of temporary gallery.
He said the biggest advantage of the third option was the gallery would re-open to the public on May 12.
The recommendation was signed off by the council's operations and reporting committee this week and will go to full council for approval.
Mr Gray said costs would total about $66,000