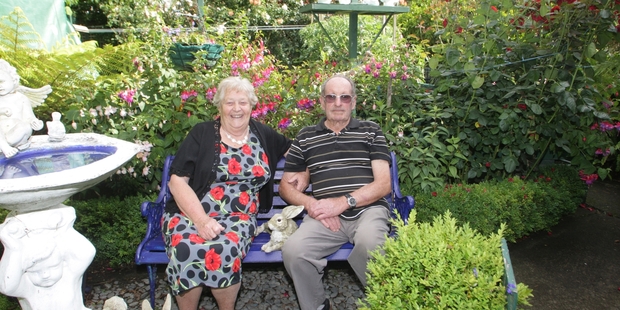 Gardening has been a constant theme in the marriage of Bob and Joyce Windsor.
The couple have lived in their Wanganui East home for the past 45 years. Their quarter-acre garden has received numerous awards for its dazzling display of roses during the summer.
The roses flourish in the front garden and the garden bordering the driveway, the back garden has a neat vegetable patch as well as small paths and statues, and plants such as ferns and fuschias. "It's been a shared interest over the years," Mrs Windsor said.
"She's the engineer and I'm the labourer," Mr Windsor said.
When they moved into the house the soil in the garden was heavy river silt, but they have gradually cultivated it until it is now "nice and light".
Mrs Windsor enjoys the roses most in her garden, while her husband admits to preferring the vegetable garden.
"Once you have roses, you have them for years - you can't kill them," Mrs Windsor said.
"They are a lot of work but they're worth it. Some of my rose bushes are 40 years old."
Mr Windsor has gardening in his blood. "I come from a long line of farmers and horticulturists."
Their property is on low land near the river and although flooding has occasionally threatened it, they've never had any flood damage.
A recent operation has limited Mrs Windsor's time in the garden, but fortunately their eldest daughter is also a keen gardener. She helps the couple and their neighbours.